More than 10,000 protest in Ireland over woman's death from denied abortion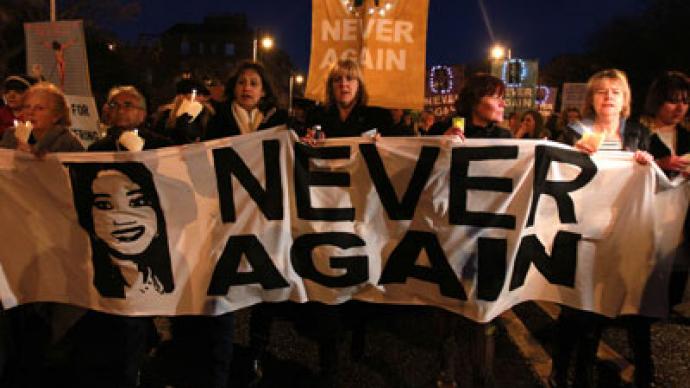 Thousands marched through Dublin in protest over archaic Irish abortion laws that led to the death of an Indian woman who asked to terminate her pregnancy, but was denied that right because of hospital's "Catholic" beliefs.
Thirty-one-year-old Savita Halappanavar died on October 28, following severe pain and the likelihood of miscarriage at 17 weeks into her pregnancy. Savita reportedly came to a Galway hospital seeking an abortion several times, but was denied. Later, she had a miscarriage and died from septicemia, or blood poisoning.According to her husband Praveen, she was denied abortion because Ireland is a "Catholic country".Savita was an Irish citizen of Indian origin and her death has sparked a wave of protests in Ireland, as well abroad.Demonstrators are demanding liberalization of unclear Irish abortion laws.During the Dublin protest a minute's silence was held to commemorate Savita's death. Demonstrators also carried candles, signs and chanted "never again".
In addition, concerns over the circumstances surrounding Savita's death have been growing in India. On Friday, about 100 protesters came out to demonstrate in front of the Irish embassy, accusing authorities of committing "medical murder".Indian politicians have come forward calling Savita's death a crime and demanding the Indian government to step in. And the Indian government has done just that by asking for a "transparent" probe into the death of Savita."I'm confident that the Irish government, with whom we are in constant touch, will properly investigate this case and will strive for a system so such incidents do not happen again," stated Indian Foreign Minister Salman Khurshid.
In Catholic-dominated Ireland abortion is illegal unless it occurs during medical intervention to save the life of a mother. However, there is no clear method of determining when such an intervention is appropriate. Irish Prime Minister Enda Kenny called Savita's death a tragedy and announced two separate investigations into the matter. One will be conducted by the hospital and the other by Ireland's Health Service Executive.
You can share this story on social media: