Ireland officially back in recession - report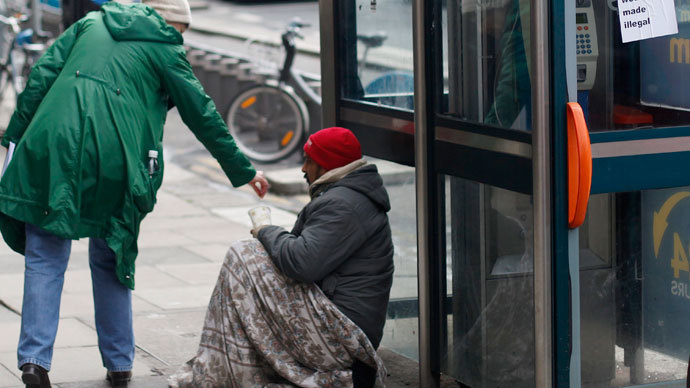 Economic growth in Ireland shrank by 0.6 percent, making its third successive quarter of contraction, and it's official re-entrance into recession, Central Statistics Office reports.
The island nation's gross domestic product contracted by 0.6 percent on a seasonally adjusted rate for a third successive quarter, meaning the economy is back in recession for the first time since 2009, the data shows.

Similarly, the statistics office has revised its GDP contraction in Q3 2012 to 1.0 percent, down from the 0.4 figure delivered three months ago, and five times the number originally forecast last winter. 
Industry growth and decline


Agriculture, forestry and fishing grew by 4.8 percent in Q1 2013, up from Q4 2012. Building and construction increased by 2.1 percent, services by 1.6 percent.

Distribution, transport, software, and communication showed little movement, and expanded by 0.1 percent from Q4 2012 to Q1 2013.

Public administration and defense output shrank by 1.5 percent compared with the previous quarter.
Overall, the economy grew by 0.2 percent in 2012, missing the 0.9 predicted by economists.

Ireland lost out big on capital investment, which decreased by 19.8 percent from the previous quarter.

Gross national product performed better, as preliminary estimates for first quarter of 2013 increased by 2.9 percent, seasonally adjusted.

The recently bailed out euro member's recovery from the financial crisis has been slow, and today's data indicates it may be slower than originally anticipated. Ireland has one of the highest budget deficits, and will continue to cut spending and increase taxes in austerity measures.

The budget deficit is astronomical largely due to the burden inflicted by the failure of six banks and recapitalization of the main three - Bank of Ireland, Allied Irish Bank and Anglo Irish Bank. The total cost of the bailout is nearing 64 billion euros, of which 40 percent was paid by taxpayer contributions.

Prime Minister Enda Kenny is hoping to wrap up his country's three-year international bailout plan by the end of 2013.

Economies across Europe are slipping back into recession. France's economy shrank by 0.2 percent in Q1, and with the exception of Austria and Germany, all euro member states have been sluggish in their growth due to the general economic slowdown of the continent.

Bond market returns in Ireland had some investors optimistic that it was moving towards growth, and not contraction.

Bonds dropped Tuesday after European Central Bank President Mario Draghi delivered a negative regional economic outlook, which he said will continue to necessitate monetary policy.

Overall the economy grew by just 0.2 percent last year, rather than the 0.9 percent initially thought, and the export-led recovery stalled in the second half of 2012 due to the slowdown in much of the rest of the eurozone.

You can share this story on social media: