Iran continues oil exports to EU through private consortium
Published time: 9 Jul, 2012 12:13
Edited time: 9 Jul, 2012 16:13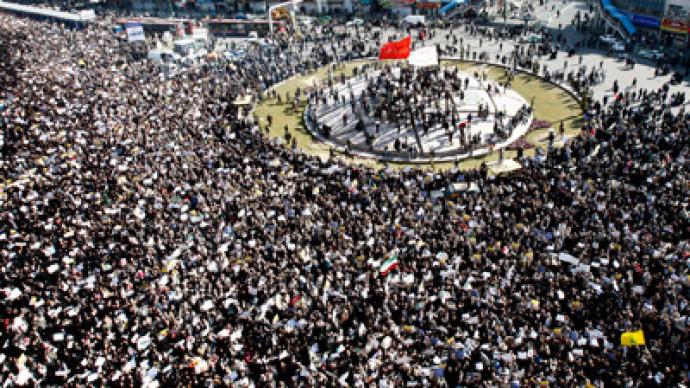 Iran's central bank and Oil Ministry have signed an agreement with the Iranian Oil, Gas & Petrochemical Products Exporters' Association to secure delivery of 500,000 barrels per day to Europe, bypassing the EU sanctions.
­The Iranian consortium is going to sell up to 20% of its average volumes to privately-owned European refineries, according to the Iranian Mehr agency. But the report disclosed few details and didn't name the refiners involved.
"It is likely that because of international restrictions, we will give minor privileges or discounts to some of the buyers of our oil," Hassan Khosrojerdi, the head of the union of exporters said.

As EU sanctions, banning member states purchasing Iranian oil or providing insurance for the shipments came in force July 1, Iran has seen its exports fall sharply. Last month Iran admitted for the first time that its oil exports have dropped 20-30% but denied exports were hit by sanctions. European countries used to import about 18% of Iranian exports.
"European oil companies were affected by sanctions, that's why they agreed on delivery through a private consortium," said Grigory Birg, chief analyst at Investcafe. "Meanwhile the EU authorities are concerned with Iranian nuclear strength, so they are likely to oppose the deal".

Birg added that Europe and the US could impose further sanctions against Iran to stop its oil exports. "As the situation remains unclear, all news on Iran would significantly affect oil prices," the analyst warned.
Meanwhile Asian countries, the major importers of Iranian crude, are trying to find a way to continue oil purchases, bypassing the sanctions. The Japanese parliament approved government insurance cover of up to $7.6 billion for each tanker which carries Iranian crude to the country. Meanwhile China offered Iran the use of its tankers in order to secure at least part of its oil supply.