Market Buzz: EU news gives feel-good factor
Published time: 10 Sep, 2012 07:19
Edited time: 10 Sep, 2012 19:20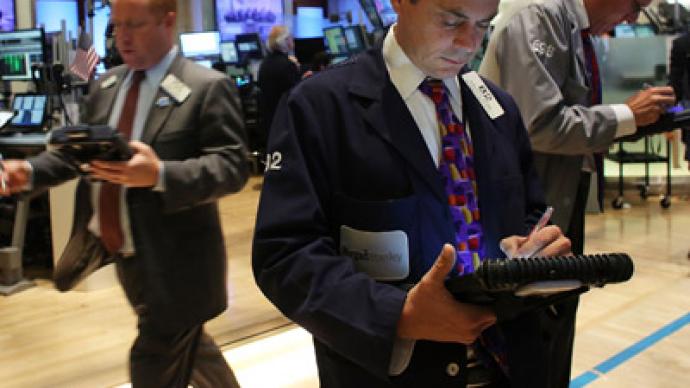 With investors more confident after last week's announcement of a bond-buying plan, the global markets are mostly poised for a higher opening of the trading week.
­Russian stocks rallied on Friday, as steelmakers were buoyed by optimism that the ECB's unlimited debt purchase plan will boost demand for metals. The MICEX gained 1.34% and the RTS jumped 2.4%.
Asian shares are showing mixed results on Monday. Disappointing data from China and the US lifted Chinese markets on hopes it will push for more stimulus measures to boost the economy. Japan's Nikkei Stock Average was flat at 0.04%, South Korea's Kospi was also little changed, up 0.07%.
The Shanghai Composite Index gained 0.4%, and Hong Kong's Hang Seng Index saw just a 0.07% rise. Chinese stocks rose after data released Monday showed a higher-than-expected trade surplus in August as imports unexpectedly contracted from the same time last year due to a surprise fall in imports. Exports exceeded imports by US$26.7 billion during the month.
The release followed data released over the weekend showing increasing inflation and slowing industrial activity in China. Chinese authorities announced the launch of new infrastructure projects last week aimed at supporting the slowing economy.
More stimulus efforts were a focus in the US, with stocks on Wall Street closing higher Friday as a disappointing jobs report added to concern that the Federal Reserve would launch fresh monetary easing measures when it meets later this week. The Dow Jones Industrial Average rose 0.1%, the S&P 500 Index gained 0.4%, while the Nasdaq Composite Index inched higher by 0.02%.
The European Central Bank's plan to buy government debt pushed European stock markets higher on Friday, although gains were capped after disappointing US nonfarm-payroll data. Europe's Friday gains took inspiration from the latest developments in the eurozone crisis. On Thursday ECB chief Mario Draghi announced plans to buy unlimited quantities of government debt with maturities of one to three years.
In London, the FTSE 100 rose 0.3%, as UK lenders tracked their European counterparts sharply higher. At the close of European trade, the EURO STOXX 50 added 0.54%, France's CAC 40 edged higher by 0.26%, while Germany's DAX 30 climbed 0.66%.