Market Buzz: In ECB we trust
Published time: 6 Sep, 2012 05:48
Edited time: 6 Sep, 2012 09:48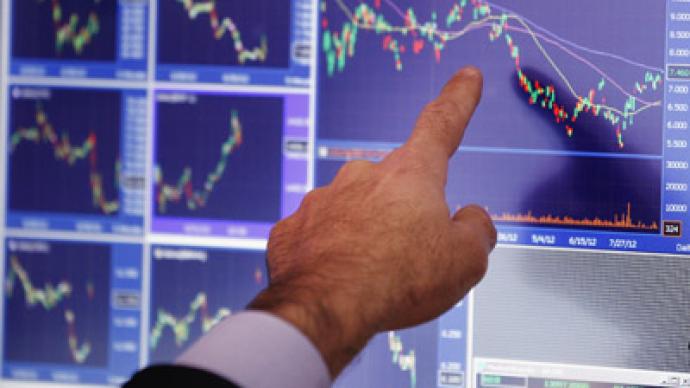 Russian stocks are expected to remain passive on Tuesday until the results of the ECB session are announced. Investors expect the plan of buyback of sovereign bonds of EU members to be discussed.
"This meeting is absolutely crucial, because expectations are extremely high. If the ECB does not deliver, we will get into another bad patch," Gilles Moec, senior European economist at Deutsche Bank, told Reuters.
"The ECB is expected to announce an unlimited program of buying state bonds, which will support growth of the risky assets," Veles Capital experts added.
ECB President Mario Draghi should reveal on Thursday at 4.30pm Moscow time (12:30 GMT) the details of a new bond-buying program intended to bring down the high borrowing costs of Spain and Italy.
The expectations of a positive outcome of the ECB meeting inspired Asian floors in the early Thursday session. Japan's Nikkei 225 rose marginally to 8,681.68. Hong Kong's Hang Seng was up 0.1% to 19,169.98. South Korea's Kospi added 0.7 % to 1,887.62. Australia's S&P/ASX 200 rose 0.9% to 4.318.50.
In Wednesday session, both the RTS and the MICEX finished in the red. The RTS declined 1% to 1, 391.61, with the MICEX also sliding 1.04% to 1, 421.62.
"Sellers dominated the Russian market" on Wednesday. "Extra negative came from the reduction of futures for the Brent oil by 0.77% to 113.3 USD per barrel," Veles Capital experts added.
In the US, stock prices closed mixed, being constraint by a warning from FedEx – the country's huge package delivery company – that profits would be hurt because of a slowdown in the global economy. The Dow Jones industrial average ended up 0.1% at 13,047.48. The S&P500 fell 0.1% to 1,403.44. The Nasdaq composite index lost 0.2% to 3,069.27.
European trade was also mixed on Wednesday. Britain's FTSE was dropping, while the indices of continental Europe were gaining. The FTSEurofirst 300 index of top European shares finished flat at 1,079.24 points after dipping to 1,074.05 – the lowest since early August – earlier in the session. Germany's DAX was up 0.5% as low demand at a German Bund auction signaled that investor appetite for safe-haven assets was drying up, a positive sign for equities. The eurozone's blue chip Euro STOXX 50 index rose 0.2% to 2,441.81 points.