Market Buzz: Investors eye news from US
Published time: 26 Apr, 2013 07:19
Edited time: 26 Apr, 2013 07:27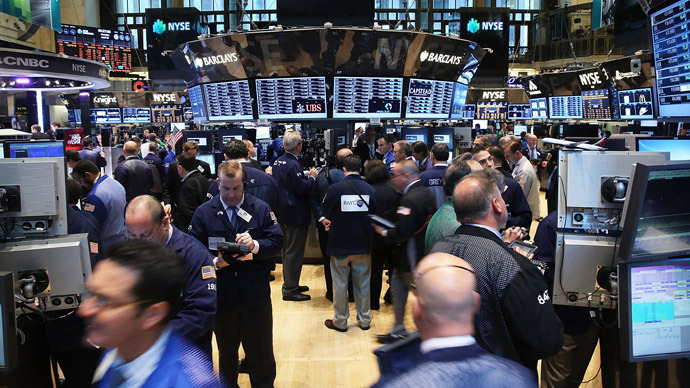 Russian markets opened with a slight correction, but are expected to stay calm ahead of a GDP update due later in the day in the US. European floors will also look to the US, as there is a dearth of macroeconomic data to drive trading.
Russian floors closed mixed on Thursday: The MICEX ended the day lower by 0.35 percent to close at 1372.2, while the RTS added 0.91 percent to 1387.98. 

European stocks closed mostly higher on Thursday. The key indices had seen major gains during the previous two trading days as investors expect an interest rate cut by the European Central Bank.
UK GDP data was surprisingly positive, though the FTSE rose only 0.17 percent to 6,442.59 due to downbeat earnings reports. Germany's DAX 30 climbed 0.95 percent to 7,832.86 points, while France's CAC 40 fell 0.06 percent to 3,840.47 points.
Spain's IBEX 35 lost 0.29 percent to close at 8,365.1 after a disappointing unemployment update indicated the country's unemployment rate had jumped to record high of 27.16 percent in the first quarter of 2013, with the number of jobless passing the 6 million mark.
No important updates are expected in Europe on Friday, aside from a French consumer confidence index. Investors are eying a European Central Bank meeting next week in which the monetary authority is expected to cut the key interest rate from 0.75 percent. 
US floors closed higher Thursday on stronger-than-expected earnings and a significant drop in weekly unemployment claims. The Dow rose 0.2 percent, the S&P 500 added 0.4 percent and the Nasdaq gained 0.6 percent.
The second half of Friday will be dominated by the news from the US. A GDP update for the first quarter of 2013 will be a key factor, which is expected to show growth over the past quarter at somewhere from 2.8 to 3.2 percent. Strong figures in the US could also drive up oil and industrial metals prices, which would serve as a big boost to Russian markets. The University of Michigan will also release a final report on consumer sentiment for April. 
Asian markets are trading mixed Friday on optimistic US employment data and a sudden drop in Japanese consumer prices. In Japan, the Nikkei 225 has fallen 0.4 percent from a five-year high, as Japan's consumer price index fell 0.9 percent in March from a year earlier. Hong Kong's Hang Seng rose 0.8 percent, Mainland China's Shanghai Composite lost 0.26 percent and South Korea's Kospi slipped 0.30 percent.
Oil is trading in the red, with both Brent and WTI losing 0.4 percent.