German investor confidence rises for the first time in five months
Published time: 18 Sep, 2012 12:26
Edited time: 18 Sep, 2012 17:08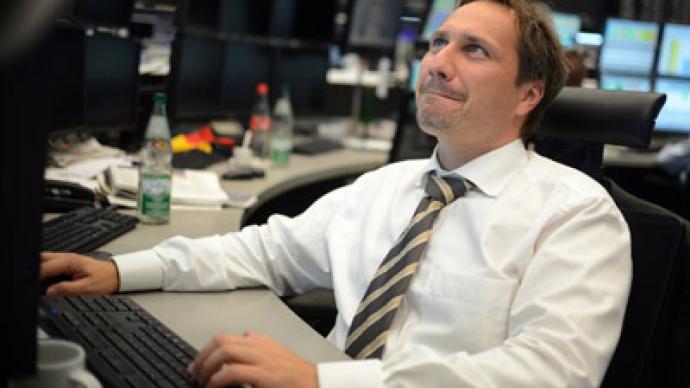 Investor confidence in Germany's economy rose for the first time in five months after the European Central bank unveiled plans to buy government bonds to stem the sovereign debt crisis.
According to the ZEW Center for European Economic Research in Mannheim the index of investor and analyst expectations rose to minus 18.2 from minus 25.5 in August.

However it still remains in negative territory as financial markets believe Germany may lose momentum over the next six months.
"The rise clearly reflects the positive reaction to the ECB's announcement of the new bond-buying program,"said Aline Schuiling, an economist at ABN Amro NV in Amsterdam told Bloomberg. "We expect the German economy to grow only moderately in the second half this year, as exports and the industrial sector will continue to feel the consequences of a weak euro-zone economy and sluggish world trade growth," Schuiling said.
Growth in Europe's largest economy ,will slow to 0.8 percent this year from 3 percent last year before picking up to 1.1 percent in 2013, according to  the Kiel-based Institute for the World Economy.
At the same time industrial production, factory orders and exports all rose in July, suggesting the economy made a good start to the third quarter. The low unemployment rate is also helping Germany to outperform its neighbors.
ZEW institute head Wolfgang Franz said the European Central Bank plans to intervene in bond markets may have boosted optimism about the eurozone but "the debt crisis is not solved yet, and the risks for economic activity remain."
The European Central Bank said in August that it plans to buy government bonds from debt -ridden countries if they agree to take concrete measures to heal their finances.
Rising borrowing costs have pushed Greece, Ireland and Portugal into taking bailouts from other euro member countries.
The purchases would drive down the interest rates that those countries pay to borrow.
At least five of the 17 nations using the euro are in recession, including Spain and Italy. The European Commission forecasts a 0.3 percent contraction for the region as a whole this year.