Hilton Worldwide to open its doors to investors
Published time: 8 Aug, 2013 10:57
Edited time: 8 Aug, 2013 11:11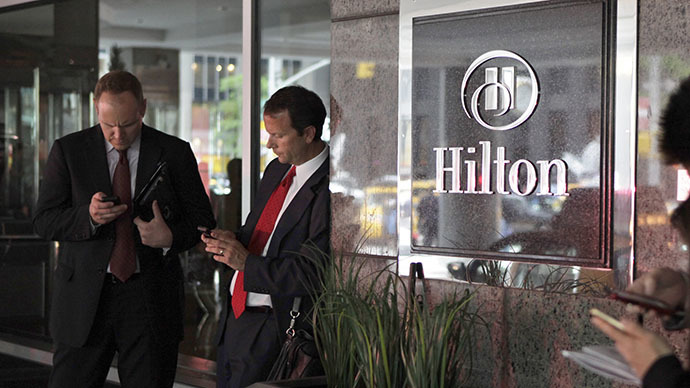 Hilton Worldwide is expected to return to the public ownership after private equity group Blackstone decided to put it on the market. Four banks will manage the offering which is seen as Blackstone betting on higher commercial real estate values.
Having been taken private 6 years ago by one of the biggest US real estate firms Blackstone Group, Hilton tapped  Deutsche Bank, Goldman Sachs, Bank of America Merrill Lynch and Morgan Stanley as the key underwriters for its Initial Public Offering (IPO), as the WSJ quotes its sources.

In 2007 the $26 billion hotel take-over marked the industry's largest private-equity buyout struck during the credit boom that ended later that year, the New York Times reports.

The Hilton offering will reportedly take place in the first half of next year.  As part of the IPO preparations, the selected banks are expected to aid Hilton with refinancing roughly $13 billion in debt, according to Bloomberg.

Recently Blackstone has been among the more active sellers within the hotel industry, which is now reportedly working on a possible public offering of its La Quinta hotel chain, which operates about 800 moderately priced lodgings. Blackstone also said it planned to sell a stake in its Extended Stay America hotel operator.

Some investors view the pick-up in selling by one of the savviest real estate investors as a bet that the commercial property market could be approaching a peak, before historically low interest rates rise and the debt markets turn volatile again, the australian.com reports.

Blackstone currently has $60 billion in real estate assets under management, overwhelmingly in office buildings, hotels and shopping centers.