Market Buzz: Downhill slide
Published time: 18 Apr, 2013 07:21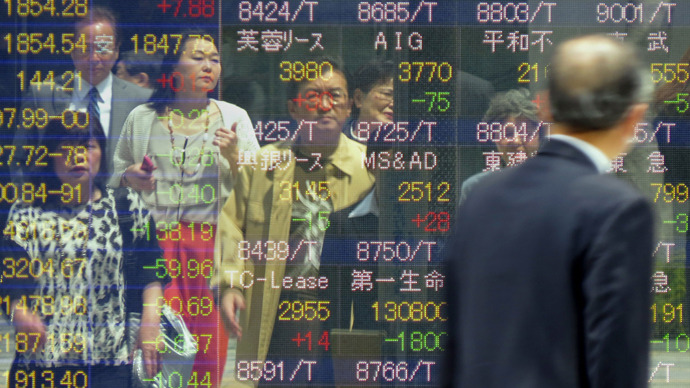 Russian floors will continue to fall as commodities prices weaken. Global markets also look pessimistic on slowing economic growth concerns.
Russian stocks ended Wednesday's session in the red. The MICEX lost 1.22%, while the RTS dropped 2.12% on negative sentiment on the major foreign markets as well as sliding oil prices. 

Europe also closed sharply lower on April 17. The Stoxx Europe 600 index slumped 1.5% to close at 283.73 – the lowest close of 2013. The reason for such negative movement was the statement from Germany's Bundesbank. President Jens Weidmann announced that eurozone's economic recovery could take a decade, adding to investors' worries about global growth.
The Frankfurt DAX dropped steeply by 2.34% to 7,503.03 on rumors that the country may be facing a sovereign downgrade. Paris' CAC 40 lost 2.35% to a four-month low of 3,599.23. The FTSE 100 in London slid by 1.01 % to 6,244.21.
The US markets also demonstrated weak performance on Wednesday closing sharply lower. Weaker-than-expected corporate earnings reports from the likes of Bank of America and JPMorgan and a 5.5% drop in Apple shares together with worries in Europe dragged the US indices down. 
The Dow Jones Industrial Average slid 0.94% to 14,618.59 points. The S&P 500 dropped by 1.43% to 1,552.01, while the NASDAQ Composite lost 1.84% to 3,204.67.
Asian markets mostly declined Thursday on falling commodity prices and weak earnings in the US. A drop in some technology stocks like Apple also added to the negative sentiment. 
Japan's Nikkei Stock Average gave up 0.4%, Australia's S&P/ASX 200 dropped 0.7%, and South Korea's Kospi shed 0.3%.
Mainland China and Hong Kong demonstrated moderate growth at one stage on economic update indicating an improvement in foreign investment inflow to China. However, soon the Shanghai Composite and Hang Seng turned back to slide 0.3% and 0.2% accordingly.
Oil continues to lose positions with Brent losing 0.13% to $97,5 and WTI down by 0.08% to $86.90.