Crude drops below $88, Russia rethinks export strategy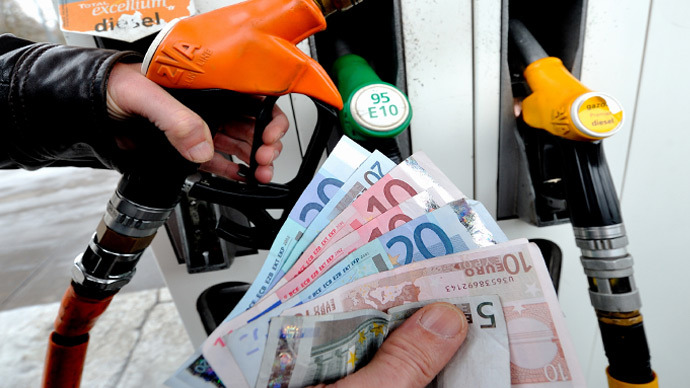 As oil prices continue their fourth straight day of decline, Russia is expected to reduce duties on most oil shipments as much as 5.8% by May.
Oil prices have had a hellish opening to the week. Brent Crude has dropped below the critical $100 level, down almost 3% to $99.66. WTI dropped below $90, down more than 3% to 87.90, its lowest level this year.

For Russia, low oil prices mean it has to find a way to encourage oil companies to continue exporting at normal output. It's expected that Russian authorities will lower export duties.

President Vladimir Putin has set a goal of exporting 10 million barrels a day, and in March, according to the Energy Ministry, production was at 10.47 million barrels per day.

Russia lowered the crude export tax to 4.5% in April after the Ural blend fell, and by May 1st it is expected to drop by another 5.8%, according to Bloomberg.

Russia bases the crude export taxes on the average Urals blend price from the 15th day of one month to the 14th of the next.  The last monthly average was about $105.00, down from the previous $110.00, a finance ministry adviser told Bloomberg.

Oil and gas exports account for 50% of Russia's budget revenue, so keeping exports up is crucial. If oil prices continue their downward trajectory, and stabilize at $80-90, the government budget will lose its lifeline, and there won't be enough money to fund all state programs.

Julia Tseplyaeva, an analyst at BNP Paribas Russia, is optimistic oil prices will remain at $110-115 in 2013-2014, NEWSru reported.

The private sector is strong, but Russia has struggled to keep foreign investment, as the first quarter $1 billion capital flee is evidence of.

Vladimir Tikhomirov, chief economist at Financial Corporation Otkrytie told NEWSru that Russian assets are risky, and if oil prices fall, the Russian government will either need to dramatically increase their foreign debt, or tap into the Reserve Fund.

Minister of Economic Development Andrey Belousov on Friday announced Russia's economy may enter a recession by autumn 2013, if no growth measures are taken.

Lower crude oil prices also put the rouble at risk. If oil remains under $100 per barrel, the rouble may drop to 32 to 32.5 against the dollar, Dmitry Savchenko, a business analyst at Nordea Bank, told Vedomosti.


Russia's oil reign at risk

Russia is currently the world's largest energy and oil exporter, but an increase in US supply has sent world prices tumbling, and in part, has undercut Russia's market dominance.

The US is leading the technology of fracking, which according to the International Energy Agency, will make the US, and not Russia, the largest crude producer, as early as 2020.

US President Obama has been a big proponent of extracting gas on American soil, to move away from foreign oil dependence.

In September 2012, Obama said the US has the potential to "develop a hundred-year supply of natural gas that's right beneath our feet."

But shale and fracking technologies aren't proven methods, and won't necessarily make the US the world's top oil exporter.

Skeptics have calculated that shale gas costs more to extract than the current market price, and also carries serious environmental risks.

The extraction of shale gas in the US is unprofitable and this "soap bubble will burst soon,"  Gazprom CEO Aleksey Miller told Rossiya 24 TV channel on March 30.

"Currently, there aren't any projects that we know of where shale gas production would be profitable," Miller said.
The US "is not a competitor" for the Russian energy giant, Miller concluded.