Market Buzz: Seeking foreign positives after commodities slump
Published time: 16 Apr, 2013 06:06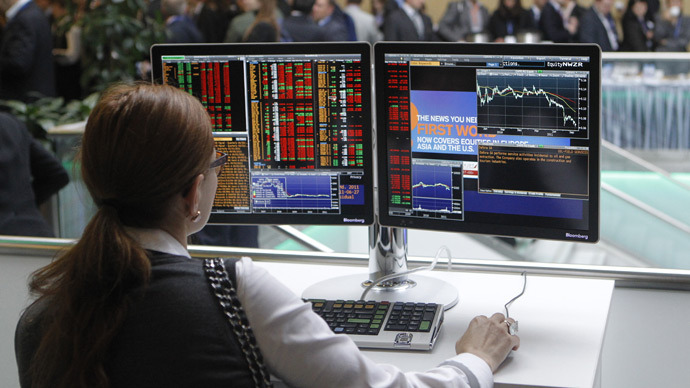 Massive falls in commodities such as gold and oil may continue striking Russian equities prices. The beginning of Tuesday's session will bring further drop to the Russian floors. Slight gains may be seen later in the day on news from the EU and US.
Monday marked big sell-offs of Russian shares, sending the MICEX 1.89% down to 1359.69 and the RTS 2.77% down to 1366.53. Oil is lower, adding to the negative sentiment. Brent is currently losing 1%, while Light is down by 1.18%.

European stocks also fell on Monday. A sharp drop in the gold price, hitting a two-year-low, and weaker-than-expected data from the world's major industrial metals consumer, China, secured the worst day for the mining sector in 18 months.
These factors sent the STOXX Europe 600 index 0.7% down to close at 290.43, after giving up 0.9% on Friday. The UK's FTSE 100 index, particularly sensitive to falls in the mining sector, dropped 0.6% to 6,343.60. France's CAC 40 slid 0.5% to 3,710.48, while Germany's DAX 30 dropped 0.4% to 7,712.63
The US was hit hard by disappointing news from China - hinting at a slowdown in its economic growth - the fall in commodities prices together with the Boston Marathon blasts.
Wall Street suffered a major slump on Monday putting an end to the continuous rally. The Dow industrials gave in over 200 points at one stage.
The Dow Jones closed 147 points lower, losing 1% to 14,718. The S&P 500 dropped 22 points or 1.4% to 1,567. The Nasdaq Composite index declined 51 points, or 1.6%, to 3,244.
US economic news out Monday included a fall in the New York Federal Reserve's Empire State index to 3.05 this month, well below expectations for a mark of 7 and last month's reading of 9.24.
On Tuesday investors will try recovering their positions looking at some important updates from Europe. On April 16 the core eurozone economies will publish official data on consumer inflation, while the ZEW Institute is to release its report on German economic sentiment – an important update for the investors.
The US will also release several macroeconomic updates on Tuesday. Two-and-a-half hours prior to the close of the Russian trading session, the US will release its March CPI. Later on Tuesday investors will see the US Commerce Department release housing stats for March.
A report on industrial production for March will follow later projected to post a 0.2% gain. Also several major companies will release their financial statements Tuesday, among them Goldman Sachs, Coca-Cola, Intel, Blackrock, Yahoo! Inc. and others.
Asian stock markets sold-off on Tuesday, after US shares posted their biggest one-day drop this year. The Boston Marathon explosions also added to the negative sentiment.
Japan's Nikkei 225 dropped 1.10%, Hong Kong's Hang Seng slid 0.80% while the Shanghai Composite fell 0.06%.