Market Buzz: Russian shares to fall on crude oil
Published time: 12 Apr, 2013 06:52
Edited time: 12 Apr, 2013 08:10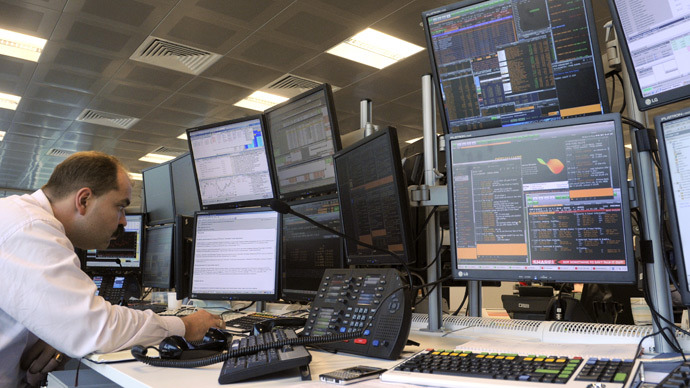 Optimism from foreign markets will not transfer onto Russian trading floors, as Russia's main export, crude, continues to fall.
April 11 was a brutal day for Russian markets, with the MICEX index dropping 1.7% to 1,401.73 by market close, the lowest since November 29. The RTS fell by 1.43%, likewise in negative territory.

Crude oil – Russia's largest export – also retreated yesterday. Russia's biggest natural gas exporter Gazprom fell 2% to 126.80 rubles. Rosneft fell 1.6% just before market close to 222.22 rubles, hitting its lowest midday trading level since October 23.

The ruble has gained slightly against the dollar, trading at 30.86.

Today, Norilsk Nickel will release their 2012 financial statement, which Russian traders will eye closely. Russian company MMK will also publish its 2012 financial after a weak Q4 performance.

European markets fared much better than their Russian counterparts, closing in the black. UK stocks soared for the fourth day in a row with the FTSE 100 climbing 28.77 points to 6,416.14 at London close. The German DAX closed at 7,810.63, gaining 0.78%, and the Spanish IBEX closed at 8,136, up 23.10 points, and is still trading well on Asian floors, up 0.28%.

US markets saw slight gains. After a record high performance on April 10, American indices continued their upward trajectory: The Dow is up 0.09% to 31.86, the NASDAQ Composite rose 0.09% and the S&P 500 performed well, up 5.64 points to 1,593.37.

The most highly anticipated market news from the US today will be the publication of macroeconomic data at 16:30 MSK.

Asian stocks reached a 20-month low as the yen strengthened against the dollar. Following the Bank of Japan's aggressive new stimulus plan, the dollar is now approaching the 100-yen mark. Japan's TPX index dropped 1.03 points, its first decline in eight days. Hong Kong's Hang Seng Index has risen 0.08%, Japan's Nikkei is down 0.71% and the Shanghai Composite has decreased 0.26%.

Both crude and light oil are down. Brent is at 104.17, down 0.03%, and WTI is at $93.16 per barrel, down 0.31%.