Is the dragon asleep? China's growth disappoints analysts and markets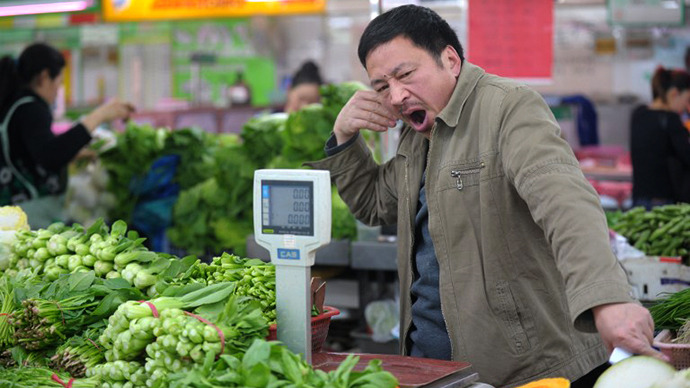 China's economic growth has lost momentum, its GDP expanded 7.7% in the first quarter, missing the 7.9% benchmark of the previous quarter, a sobering reality that global recovery is slowing.
China has been coined by America as an economic 'sleeping giant': a power that will suddenly awake at any moment and supersede the US as the world's biggest economy.

But the numbers are telling a different story.  According to the data from the National Bureau of Statistics in Beijing, the GDP missed its forecast, an indicator that even China isn't immune to global recession.

The Shanghai Composite Index has fallen on the GDP news and is down 10% from an early February high. It fell 1.1% on Monday down to 2,181.94 at market close, the lowest level since December 24.
"The disappointing data shows the recovery is much weaker and bumpier than expected, dragged down by soft domestic demand," Zhu Haibin, chief China economist at JPMorgan in Hong Kong, told Bloomberg.
In a speech in Frankfurt last week, billionaire investor George Soros warned that Germany is heading for a recession of its own making, which Soros predicts will hit in September.
The IMF has trimmed its forecast for US growth, predicting it will only expand 1.7% instead of the forecasted 2%, according to a draft of the World Economic Outlook obtained by Bloomberg.
The Tiger Index (Tracking Indexes for the Global Economic Recovery) a sort of 'pulse rating' of the global financial condition,has deemed the economy "unable to achieve lift-off and facing the risk of stalling", according Professor Eswar Prasad, a senior fellow at the Brookings Institution.
Commodities hit nine-month low
Sell, sell, sell. That is what the Standard & Poor's GSCI gauge of 24 raw materials indicates Monday's market trend, as the index has dropped 1.34% on the New York exchange. Silver dipped more than 11% to $23.93 an ounce in New York, also nearing record lows. Gold fell below 9.35%, a 30 year lower, below $1,400 an ounce.

"The demise of gold is still at an early stage," Georgette Boele, a commodities strategist at ABN Amro Group NV told Bloomberg.

Gold first tumbled on the rumored sale of Cypriot reserves as part of their bailout package. The island-in-crisis planned to sell excess gold reserves to raise $525 million, which triggered panic that other indebted euro countries would copycat.
WTI crude has fallen to a nine month low , dropping for a second day to $88.56 on Asian markets and opening under $90/barrel on the New York exchange. The fall came after the World Bank cut its economic forecast for China's growth from 8.4% down to 8.3%. With a US surplus of crude and declining demand, analysts haven't ruled out prices below $85 in the coming month. The US currently consumes 21% of the world's crude oil, and China, 11%.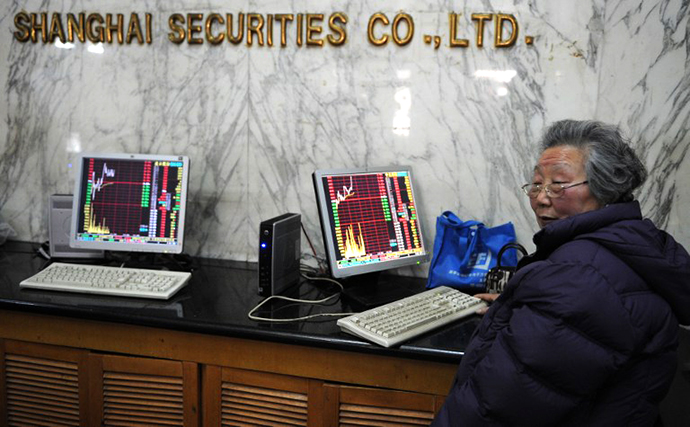 Iceland- China's unlikely ally?
Iceland and China are expected to sign a trade agreement on Monday that will boost exports from the tiny isolated island to the world's second largest economy.
Icelandic Prime Minister Johanna Sigurdardottir is on a five-day tour of China, on the lookout to expand its export market after the banking bubble burst of 2008 left the Nordic economy crippled.
A Chinese-Icelandic partnership is something to watch closely, as Iceland's proximity to the melting Arctic is opening up new potential trade routes, and possibly natural resource exploration -gas, oil, diamonds, gold, and iron- all resources any up-and-coming superpower should have its eyes on.
Putin, the optimist
President Putin has acknowledged the lagging global crisis, but at the same time, has suggested that Russia is an anomaly to the surrounding stunted growth.
"The global crisis is acquiring an increasingly dangerous shape, which inevitably affects us as well," he said at a meeting with Prime Minister Dmitry Medvedev on Monday. Last year's economic performance, by Putin's account, "was good in general."
"In contrast to our friends and partners in Europe and  other regions of the world, the Russian economy demonstrates viability and potential for further development,"  said Putin.

Putin reported a wage drop, but stated the figures were above projected levels, and remains optimistic, boasting Russia's extractive industries are due to increase production.

Dmitry Medvedev will give a similar follow-up report on April 17.

You can share this story on social media: