Greece agrees to raise retirement age, discusses further cuts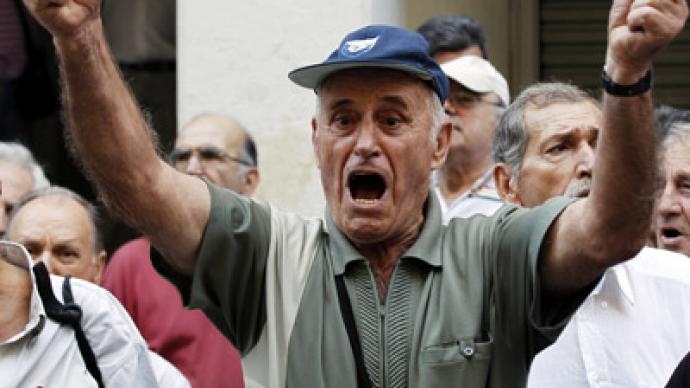 Greek Finance Minister Yannis Stournaras has reportedly agreed with officials from the so-called "troika" of international lenders to raise the retirement age in Greece by two years to 67.
The move to up the retirement age is part of the 11.5 billion euro cuts and savings in 2013 and 2014 demanded by European Union, International Monetary Fund and European Central Bank, a senior Greek official told Reuters. It is expected to bring as much as 1 billion to the Greek treasury. Separately, the Greek government proposed to get another 2 billion euro through raising tax revenues and measures to fight tax evasion."There was some progress, a funding gap remains but there are novel ideas as to how it can be covered," the official told reporters.So far, the two sides have agreed on 6.5 billion euro of cuts in wages, pensions and benefits and 1.5 billion euro of savings from reform of the public sector. However, the "troika" team has rejected some of the measures proposed by the Greek government led by Antonis Samaras, the official said. The sides are still arguing about 2 billion euro cuts in health, defence and local government.Earlier this week Greece said it had started selling off state property including former royal palaces, marinas, airports, and diplomatic residences abroad.Finance Minister Stournaras will meet the troika again later on Friday to continue negotiations. Meanwhile, sources at the Finance Ministry said they expect an agreement at the technical level might come later in the day. The officials from the EU, the IMF and the ECB are expected to leave Athens next week to prepare their report on Greek finances for the Eurogroup meeting on October 8.A positive report from the troika and an agreement with lenders are key to Greece securing the next aid tranche, worth 31 billion euro, of the 173 billion euro ($224 billion) aid promised earlier this year. Meanwhile Greece is facing a new wave of anti-austerity protests after the traditional August summer break. Subway, city train and tram workers held a 24-hour strike Thursday, and major unions announced a general strike next week.
You can share this story on social media: