Smugglers probe: Internal search reveals $100k in hidden gold nuggets
Published time: 26 Sep, 2013 10:20
Edited time: 26 Sep, 2013 12:22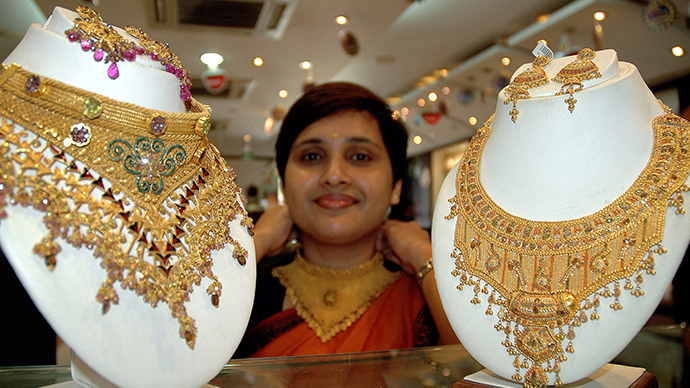 Sri Lankan customs control confiscated 2 kilograms of gold and detained two men who had concealed the precious metal inside their bodies in order to avoid customs duties.
The men were caught as they went through an X-ray check before boarding a Mumbai-bound flight on Wednesday, according to Leslie Gamini, a spokesperson for Sri Lanka Customs, told AFP.
"Each man had 10 gold biscuits weighing 100 grams inside his rectum," Gamini said, adding the bust was the biggest Sri Lankan customs officials have ever found inside a human body.
He said the gold, valued at nearly $100,000, was confiscated and the men were fined $384 each.
"They were easily spotted because they appeared to be in pain and could not walk properly," Gamini told AFP.
In a separate case, seven other gold 'couriers' were detained on Monday in an attempt to sneak 25 bars of gold they had swallowed (exact weight is unknown) into India on a flight to Chennai.
The detainees - one Sir Lankan and six Indian - are being held in custody at a hospital and authorities are waiting to for the gold to pass, aided by laxatives.

Gamini said customs officials at Sri Lanka's main international airport have increased their watch for gold smugglers into India since prices spiked after the Indian Reserve Bank started introducing tariffs to curb imports and curb demand.
India, the world's biggest bullion buyer, has raised tariffs on gold in an effort to offset the falling rupee, which has recently weakened to all-time lows. New Delhi raised import taxes three times this year to help stabilize the currency, which has fallen 20 percent against the dollar since 2011.
The Indian obsession for gold is driven by a culture centered around festivals and weddings, and in part has driven up India's account deficit - nearing $90 billion - the world's third largest.
India's central bankers have been buying up gold as a hedge against currency inflation, and the Reserve Bank has even suggested the radical idea of directly buying gold from ordinary citizens to save the rupee.
At Mumbai airport, customs agents confiscated gold worth 93 million rupees from April to June, according to Rishi Yadav, assistant commissioner at the Mumbai customs department's Air Intelligence Unit, Bloomberg reports. The volume of confiscated gold at New Delhi International airport has increased by 550 percent, according to officials.
India exported $561 million worth of gold jewelry in August, up from the $441.4 million in July, according to India's Gems and Jewelry Export Council.
The increased import taxes have forced smugglers to be more surreptitious and creative in their execution.