Emerging crisis: India's rupee punished amid investors' 'flight to safety'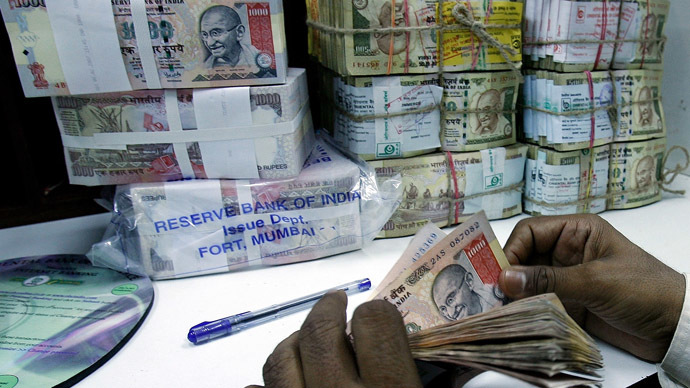 The rupee has touched an all-time low of 68.75 against the dollar Wednesday on fears India's cheap food plan would increase the budget deficit. Surging oil prices and tapering Fed stimulus could push the rupee and other emerging market currencies down.

"This is [rupee's fall] unprecedented and we are in unchartered territory for the rupee," BBC quotes Vishnu Varathan, an economist with Mizuho, who added that he expects the rupee to fall to the 70 mark against the US dollar.

The Indian currency is one of the world's worst-performing currencies this year, as it has lost over 20 percent of its value.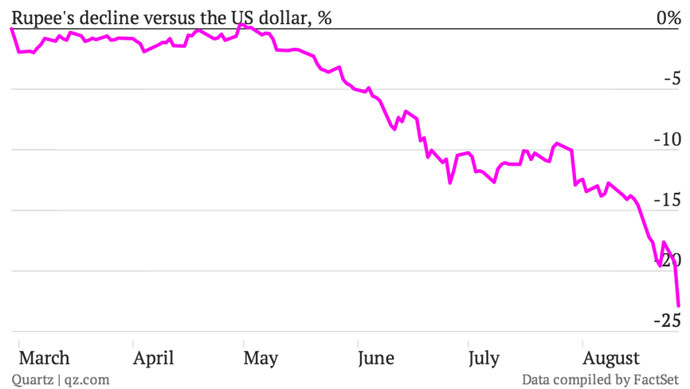 India's rupee nosedived, after the country's lower house of Parliament okayed a $20 billion plan to provide cheap grain to the poor. This raised concern that India's sky-high fiscal deficit will rise even further.

On Wednesday BNP Paribas cut its growth forecast for India for this fiscal year to 3.7 percent from 5.2 percent - the slowest pace since 1992.

A jump in oil prices amid fears of military action against Syria has also knocked Asian Markets. An 8.9 percent jump in Brent crude in August is set to boost costs for India, which imports almost 80 percent of its oil, Bloomberg reports. This may fuel the country's inflation and worsen India's deficit.

International investors have withdrawn nearly $12bn from India's markets since the beginning of June, according to the BBC. Investor confidence was mainly hurt by the expectation the Fed will begin to cut its $85 billion a month bond purchase stimulus.  As developed economies are sending more signals they are getting closer to a recovery track, emerging economies are starting to feel increasing pressure. In the past three months emerging markets  have seen an exodus of cash, with their 20 most-traded currencies falling more than 5 percent.

Investors are now hastening to buy dollars before the US caps its monetary stimulus, Natalya Orlova, Alfa Bank's chief economist, told Business RT. "They are buying up greenbacks now, giving emerging economies their domestic currencies back," she said.

"It's all part of a general flight-to-safety trade -- investors are liquidating positions in riskier assets," Bloomberg quotes a currency strategist at Bank of Tokyo-Mitsubishi Lee Hardman.

Barclays investment bank is bearish on Turkish Lira, Indonesian Rupiah, South African Rand and the Indian Rupee.
The bank's report notes that domestic inflation pressures have driven some emerging market central banks, including Brazil's, into action and more central bank measures could follow, but adds that "India's decision to tinker with capital controls only brought renewed funding pressures, setting an example for the rest the EM space."

The Russian rouble has been weakening throughout the summer, sharing the emerging market currencies trend. The Russian currency lost 8% against the dollar over the last six months, but Brazil's currency fell by 21%, the Indian rupee by 19%, the South African rand by 15%, Indonesian rupiah by 12%, and the Turkish lira by 12%.

Russia has one of the lowest national debt-to-GDP ratios in the G20, which helped keep the currency market fairly stable.

"The currencies of other emerging markets with imbalanced government finances fell deeper than the Russian rouble", Voice of Russia radio quotes Senior Economist at Sberbank Anton Stroutchenevski.

You can share this story on social media: