'Septaper' is imminent: markets await US stimulus to taper in September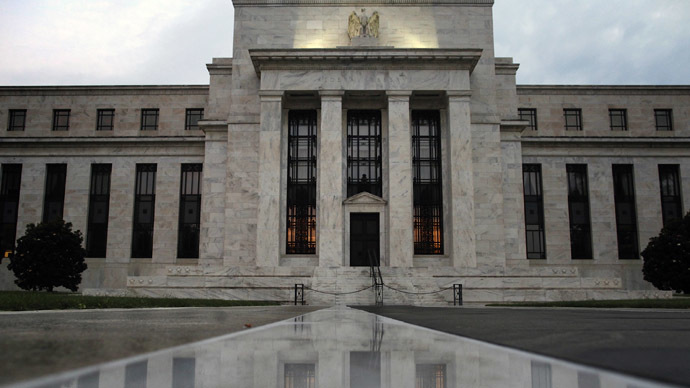 The US Federal Reserve remained vague on exactly when they will begin tapering its $85 billion-per-month stimulus program, but markets reacted as if a decision had been reached. The major world indices sank and emerging markets reached record lows.
July's US Federal Open Market Committee's minutes left investors with just as many unanswered questions than before. Chairman Ben Bernanke said the board is 'broadly comfortable' with the idea of winding-down, yet deems the timing 'not yet appropriate', providing no precise timeline.
However, the markets largely expect the US to trim the stimulus at the committee's September meeting in a move nicknamed 'Septaper'.
Falling bond yields in the US is one sign making traders believe the Fed's move is imminent, and is also a general indicator that the US economy is returning to pre-crisis condition. 
Unemployment data fell to a five-year low on Thursday, an indicator the labor sector, among others, is gradually improving. Those seeking unemployment benefits fell to a 330,500 average, according to the Labor Department report.
Wednesday's comments triggered a test-run for equities, which reacted just as if the Fed had signaled a clear outlined plan to pare. Trading was turbulent across floors, slightly fanned by disappointing Chinese PMI data, and across-the-board sell offs of emerging stocks.
Emerging-market stocks hit a six-week low after the Fed signaled its moving toward stimulus paring.
The MSCI Emerging Markets Index fell 0.5 percent intraday, but have since recovered and is trading up at 38.54.
Jolted trading is the market's affirmation that cuts are coming in September.
Foremost is India's rupee, the worst performing emerging currency.
It's at a record-low of 64.63 against the dollar, and analysts fear it isn't far off from surpassing a ratio of 70. The currency has declined more than 15 percent against the dollar since May 22nd, when Bernanke first indicated the US would cut its stimulus program.
India, like China, has significantly slowed its growth since its days of rapid accession, when it was 'on fire' upwards of 10 percent. 2013 growth is projected between 5.5 percent and 5.7 percent.
You can share this story on social media: