Market Buzz: Fed minutes feed sentiment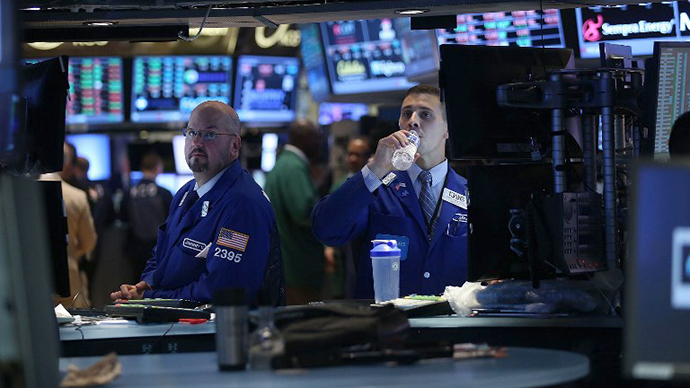 Stocks are expected to fall for a second consecutive day ahead of US Federal Reserve notes due Wednesday, when they could announce their plan to slow down their $85 billion-per-month stimulus bond buying program.
"The key event influencing the markets is tomorrow's [Wednesday] Federal Open Market Committee minutes. It will set 90 percent of the dynamic for the market," Ariel Cherny, an analyst at Moscow's Allianz Investment office, told Bloomberg.

A majority of economists believe the Fed will begin to dismantle the program in September, which would hit emerging stocks hard especially, as the bond-buying-program has been a push in emerging markets.

Russia stocks are headed for a second day of drops, as crude oil trade hit a two-month low on Tuesday.  

The MICEX slipped over 1 percent midday, but recovered by market close, and is trading up 0.13 percent at 1,379.11. Sberbank, Gazprom, and Lukoil, all heavyweight equities, dropped in the day session but are expected to open high. The dollar-based RTS will open 0.40 percent at 1317.77.

WTI saw its biggest decline in two months on Tuesday, and is trading at $104.81 per barrel, and Brent is down 0.36 percent at $109.75 a barrel, still high on Egypt unrest.

Futures of the both oil blends dropped after the American Petroleum Institute reported inventories dropped by 1.2 million barrels last week.

Asian stocks have dropped in anticipation of a Fed scale-back. Hong Kong's Seng Index dropped 1.1 percent, and is trading down 0.96 percent, and China's Shanghai Composite dipped before climbing 0.1 percent.

Japan's Nikkei Index is recovering after an early trading session dip, and is up 0.17 percent.

European indices are red across the board as investors carefully inspect the Fed's next move. Amsterdam's EURO STOXX dropped 1.25 percent, London's 100 Index fell 0.19 percent, France's CAC lost 1.35 percent, and Gemany's Dax is down 0.79 percent.

US equities are mixed ahead of Fed minutes. The Dow Jones closed down 0.05 percent, the S&P 500 climbed 0.38 percent, and the NASDAQ increased 0.68 percent.