Market Buzz: US stimulus taper talks slow markets
Published time: 20 Aug, 2013 06:27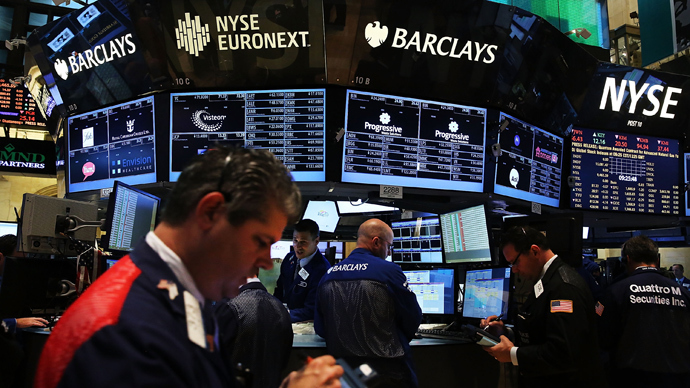 Stocks are expected to stumble ahead of US Federal Reserve notes due Wednesday, which will give a signal as to whether the US plans to begin tapering their $85 billion-per-month bond buying program.
"Most likely, investors will act on news from the other side of the Atlantic, in particular, the Fed minutes to be released after the heads of the Federal Reserve Bank meet tomorrow in Jackson Hole," Andrey Shenk, an analyst at Investcafe, said.

A majority of economists believe the central bank will begin to dismantle the program in September, which would hit stocks hard and lower prices, but would strengthen them long-term.

Asian indices are sluggish, which could translate to Russian floors.

The dollar-based RTS is up 0.53 percent at 1329.29 and the MICEX added 0.05 percent. Gazprom dipped for a third consecutive day, but recovered on New York floors, rising 0.42 percent after the Bank of America Merrill Lynch upped its recommendation for the company.

Oil has snapped its six-day gain, with WTI down 0.33 percent at $106.75 per barrel, and Brent down 0.34 percent at $109.53 a barrel.

Tensions in the Middle East oil markets continue to hang up in the air, as political uncertainty in Egypt and swelling protests fan concern commodity supplies through the Suez Canal could be disrupted.

Asian stocks tumble on weak currencies and hesitation on Fed notes. Hong Kong's Seng lost 0.25 percent after unemployed remained unchanged in Hong Kong, and the Australian S&P/ASX 200 dipped after the Reserve Bank of Australia said it may reduce interest rates further. The Nikkei slid 1.88 percent.

European indices are down across the board, also on Fed expectations. Amsterdam's EURO STOXX lost 1.08 percent, London's FTSE 100 dropped 0.53 percent, France's CAC 40 slid 0.97 percent, and Germany's DAX declined 0.31 percent.

American shares slid in anticipation to the Fed's decision. At market close, the Dow Jones finished down 0.47 percent, the S&P 500 slid 0.59 percent, and the NASDAQ dropped 0.38 percent.