Everbright shares plunge 10% after $3.8 billion glitch
Published time: 20 Aug, 2013 11:49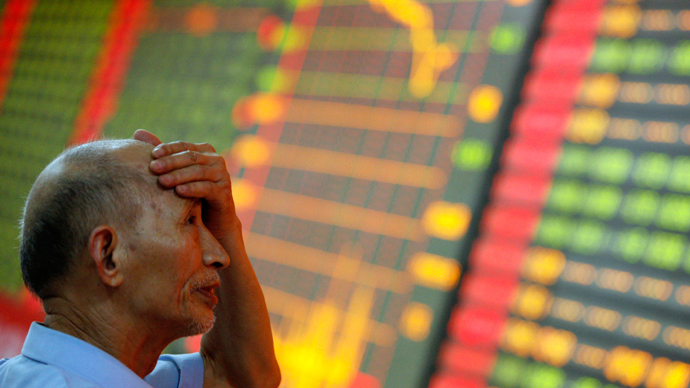 The state-controlled brokerage firm's stock plunged in Shanghai after China's regulatory commission banned it from trading for 3 months, a punishment for making accidental $3.8 billion buy orders and a $1.6 million bond mispricing.
Everbright Securities have nosedived by 10 percent since Friday. The company's spot market trading has been suspended until November 18.
China's regulatory commission banned Everbright from propriety trading for 3 months, after their mistake sent Shanghai floors into a frenzy on August 16, falsely inflating the Shanghai Composite by 5.6 percent and the CSI300 Index by 4.4 percent.

In Tuesday's slip-up, Everbright Securities sold $1.6 million of government bonds at a yield of 4.2 percent, which was 25 basis points above the valuation of the previous day, Bloomberg explains.
The Chinese Securities Regulatory Commission has maintained the trade mishap was a technical and not human mistake.

Hong Kong's Hang Seng Index dived 3.4 percent on Tuesday, its biggest loss in 18 months, and the Shanghai Composite closed at 2,072.59, a 0.6 percent dip.
"From today's stock performance, we can see that there hasn't been a large fall in share prices in the market. If it is a one-off accident, then it won't have an impact. But if the results from the investigation result in new stricter regulatory measures, then this may have more of an impact," an analyst at Cinda Securities Co Ltd told Reuters, speaking anonymously.

Confidence in Chinese markets fell, as Reuters estimates the erroneous trade created, and then depleted, nearly $100 billion worth of share value on the CSI300 Index.

The error could cost China's market more than the market shares wiped out following the unprecedented miscalculation.
Losses could total between 300 and 400 million yuan, Citigroup analyst Paddy Ran wrote to Bloomberg in an August 16 note.

"Everbright's saga will likely lead to a campaign by the regulators to tighten scrutiny over relevant practices across the brokerage sector. For one, other brokers might be using the same flawed trading software that Everbright did," said Amy Lin, senior analyst at Capital Securitiestold WSJ.

Facing fines and restrictions, the trading mishap has cast a shadow on China's 9th largest brokerage firm by asset.
The company is composed of banks, insurance firms, and asset management companies. At the end of the 2012 fiscal year, assets were valued at $392 billion.
Everbright was recently accused of being involved in a JPMorgan 'grandfathered' hiring scheme in which they hired kids of influential Chinese officials in exchange for contracts.