Gold slumps to three-year low, South Africa hit most
Published time: 26 Jun, 2013 15:33
Edited time: 26 Jun, 2013 15:37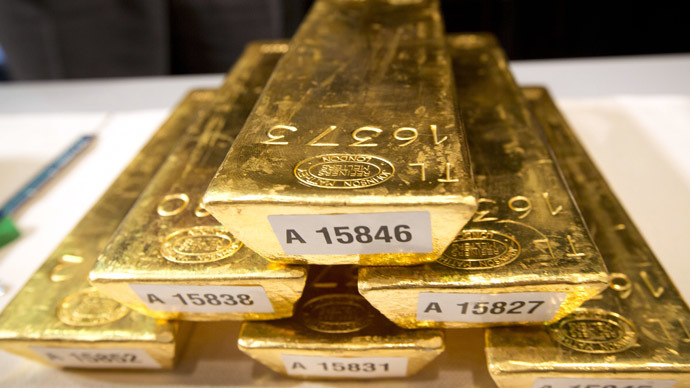 Gold has slumped to a near three-year low as investors continue to sell off assets traditionally used as hedge against inflation. The steep price drop hit leading gold producer South Africa most of all.
Gold fell 2.3 percent to $1,229 an ounce and silver dropped as well, having lost 4 percent. Both metals reached their lowest levels since September 2010.
The slump in gold was fuelled by the strong economic data released in the US on Thursday. The US data showed strong gains in business spending plans. Also US home prices posted record gains, indicating that recovery may be on track in the key sector of economy. These factors boosted stock markets and supported the US Fed's plan to scale back the extreme monetary easing in the coming months.
Gold has been on a downward slide since last Wednesday, after Ben Bernanke, Federal Reserve chairman spoke on the US central bank's intention to begin pulling out of the $85 billion per month bond-buying later this year.
Today the metal slipped to as low as $1,245 an ounce, having demonstrated a record quarterly drop. The metal has lost 10 percent of its value, or about $140 an ounce, since the beginning of last week.
South African producers suffer most.
Major price falls and sell offs in gold mostly hit South African producers, Bloomberg reports. Miners are being paid twice as much as current market prices and producers can afford. Strikes over pay put producers in South Africa in a complicated situation.
"The cost of production for South African miners has been propelled much faster than for other producers, due to labor intensive mining practices combined with sharply rising wages," analysts of Fitch Ratings wrote in a report. The result is that the country's mining companies "are the most exposed to the risk of falling gold prices."
South African strikes and wage protests sometimes end in violence. Last year's strikes at mines left 44 people dead and led to pay gains for some of about double the pace of inflation, Bloomberg says. Violence continued into 2013, as in the past month and a half three workers including members of the rival National Union of Mineworkers and Association of Mineworkers and Construction Union were killed.
"Anything below $1,400 an ounce is sort of a red line" for South African gold producers, David Davis, a Johannesburg-based analyst at SBG Securities told Bloomberg. "There's a vast difference between what labor unions are demanding and what South African mines can afford. It points towards long drawn out negotiations that could end in dispute."
The six-member FTSE/JSE Africa Gold Mining Index dropped 3.6 percent in Wednesday's early trade in London, extending losses into the seventh consecutive day. Over the past year the index has already lost more than 50 percent.
The MSCI World Metals and Mining Index compared to Africa's indicator lost much less, having dropped by as much as 19 percent.