Germany: Is strongest European economy heading south?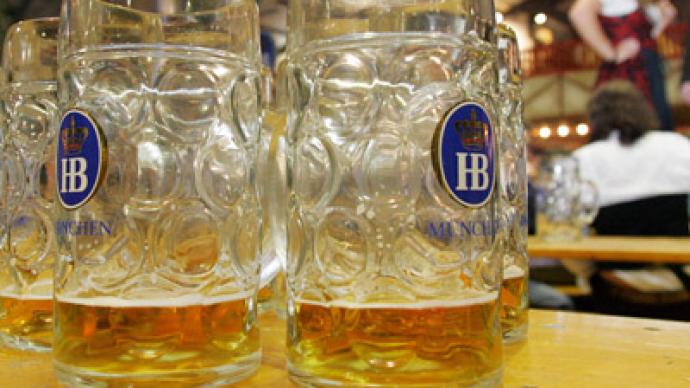 German unemployment rose for a fourth straight month in July as crisis-hit businesses delayed hiring. It's a reminder the country, which many in the Eurozone are looking to for help, may have to set its sights on its own economic problems.
The number of people out of work rose a seasonally adjusted 7,000 to 2.89 million, the Federal Labor Agency in Nuremberg said on Tuesday.  The adjusted jobless rate held at 6.8%. The current rate is still low compared with 8.2% in the US, 10.1% in France and Italy and a euro-area average of 11.1%. However it isn't showing a turn around with German unemployment sustaining an almost uninterrupted decline for more than two and a half years. Germany's jobless rate was 5.6% in May, according to the latest harmonized OECD figures. Munich Re, the world's biggest reinsurer, will cut as many as 1,350 jobs in Germany this year at its Ergo insurance unit to reduce costs. Western European financial firms have announced almost 24,000 job losses this year, data compiled by Bloomberg show.The mood in the German economy is getting gloomier with politicians and public uneasy as the eurozone crisis is threatening Germany's industry and credit rating. German business confidence fell to a two-year low in July as market turmoil and eurozone neighbor problems put an end to the economic growth outlook and businesses earnings. Last week was particularly bleak with bad economic news hitting Germany with several major companies publishing downbeat quarterly reports.The chemical manufacturing giant BASF announced its profits had fallen 16%. Daimler's profits had dropped 11% year on year. This week has also already brought more disappointing figures coming out of Germany's banking sector, which was hit by the euro zone debt crisis.On Monday Germany's second biggest lender Commerzbank published preliminary earnings that clearly missed analysts' expectations. On Tuesday the Frankfurt-based lender Deutsche Bank said pre-tax profit from investment banking, dropped 63% to 357 million euro ($437 million) in the second quarter from 969 million euro in the year earlier. "The European sovereign debt crisis continues to weigh on investor confidence and client activity across the bank," Deutsche Bank's co-Chief Executives Anshu Jain and Juergen Fitschen said in a statement.Deutsche blamed the weak euro for pushing up its dollar and sterling cost base, shrinking its second-quarter net income to 661 million euro from the 1.2 billion a year before.Until recently businesses have only seen a slowdown in demand from the eurozone, China and the US.  Last week ThyssenKrupp Steel Europe, Germany's biggest steelmaker said it will introduce shortened shifts for workers from August due to "ongoing weak orders," at least until the end of the year. Orders from the giant German industrial conglomerate Siemens had dropped 23%.Adding to the woes of investors, who have been digesting a slew of disappointing reports, Moody's lowered its outlook on Germany's AAA credit rating to negative. Moody's blamed its downgrade warning on the eurozone bailouts, saying that Germany's rating was in danger due to "the rising uncertainty over the outcome of the euro area debt crisis" and other risks "stemming from the increased likelihood of Greece's exit from the euro area." The ratings agency said the risk that Greece could leave the euro and an "increasing likelihood" that countries such as Spain and Italy will require aid may shatter the eurozone's strongest economy.The Munich-based IFO institute's July business climate index fell to the lowest level since March 2010. Earlier this month the ZEW Center for European Economic Research said its index of investor and analyst expectations fell for a third straight month. Purchasing managers' surveys also show Germany's manufacturing and service industries are contracting.While the latest data suggests economic growth is slowing, the Bundesbank in June said it expected an expansion of 1% this year.  The Bundesbank's upbeat forecast also runs counter to the European Commission's prediction of a 0.3% contraction for the 17-nation euro economy as a whole.The bad economic news comes as German politicians are becoming increasingly uneasy about Germany's generous bailouts to the eurozone. Some politicians insist the recent news shows Germany must do more to help the eurozone or else its decline will affect Germany more. Others are saying that the results show Germany must do less to bail out Europe, because the bailouts are beginning to threaten its own economy.Chancellor Angela Merkel had a tough time in July trying to persuade Germany that a 30% injection to the aid cushion for Spain would not hit voters too hard in the wallet, that's amid accusations of recklessly spending of the nation's cash on other countries. Meanwhile, German banks have cut back lending to the eurozone's debt troubled countries by 20% since January, making it the lowest level since 2005, according to data from Germany's Bundesbank.Between January and June loans to Greece, Ireland, Italy, Portugal and Spain declined by 55 billion euro to a total of 241 billion euro, with the net lending to Italy dropping 25% in five months, a study by Morgan Stanley of the Bundesbank data reveals. Should the economy shrink in Europe, Germany will come under considerable pressure, and more jobs will be threatened. But if the single currency collapses, the Germans could be directly affected by the European crisis.
You can share this story on social media: