'Austerity belt' proves fashionable in Germany, Merkel wins elections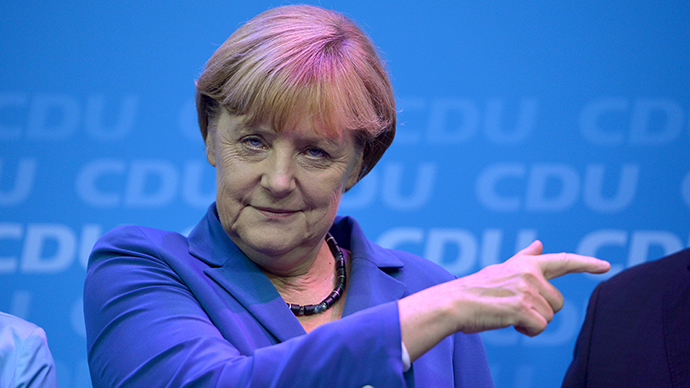 Angela Merkel may be resented by the rest of Europe, but Sunday's election result is validation by Germans of the Chancellor's handling of the euro crisis, as they signed-up for four more years of tough austerity.
Merkel's cautious handling of the euro crisis secured her a third term as Chancellor, but she may struggle to form a strong coalition to continue her pro-Europe agenda in continuing outreach to the more peripheral 'south'.

The coalition pairing will slow Merkel's plan, and therefore a major shift in European policy isn't expected.

"This is a super result," Merkel said, after clinching 41.5 percent of the vote for her conservative Christian Democratic bloc (CDU-CSU), beating out her more euro-sceptic rivals in her party's biggest victory in 23 years.

"The result of Germany's election is, first and foremost, a big vote of confidence in Merkel and her handling of the eurozone crisis. No other leader of a major economy has been able to reap more political dividends from an international financial and economic crisis," Nicholas Spiro, of sovereign credit risk strategist Spiro Strategy, told the Telegraph.

Angela Merkel's euro-sceptic challengers ran their campaigns on the premise the euro has failed, and the direction forward was to step away from Europe.

The Social Democrats (SPD), came in a far second with 25.7 percent of the vote. Leader Peer Steinbrueck, her former finance minister and staunch opponent of her handling of the euro crisis, says he won't serve under the chancellor, and was quoted as saying, "the ball is in Mrs. Merkel's court."
If Merkel teams up with the SPD, she may have to concede on some domestic issues, like a higher minimum wage or stricter financial regulation.

Merkel's campaign charm was better than expected second quarter growth, which in Germany rose to 0.7 percent. Yearly growth is forecast to be between 0.3 and 0.4 percent, according to the European Commission. The 17-member eurozone is expected to contract 0.4 percent.

The CDU's junior coalition allies - the pro-business Free Democrats (FDP) - received only 4.8 percent, which is below the five percent threshold required to gain a seat in parliament.

Alternative for Germany, which campaigned on euro-sceptic fears about the cost of eurozone bailouts, likely took away votes from Merkel's coalition parties, and received 4.7 of the vote.

Germany's Left party, which aims for democratic socialism, came in third with 8.6 percent, while the Greens, a likely pro-Europe ally, got 8.4 percent.

The Pirate Party, advocating for internet freedom and copyright law reform, ended up with 2.2 percent and the far-right nationalist NDP party received 1.3 percent. All other parties received a collective 2.7 percent of the votes.

Merkel may very well go down in history as the crisis chancellor, as much of her time in office has been overshadowed by the deep financial crisis, which began in Greece and has spread over the European continent. 
Greece, Portugal, Cyprus, and other bailout countries can rest assured Germany will continue backing the Euro under Merkel, who remains an advocate of her austerity campaign. Germany's recovery success is proof the euro can drive growth and create jobs, Merkel says. 

Export-driven Germany has emerged from the crisis and boasts low unemployment and relatively high growth figures, but an aging population and piling pension costs will be an obstacle for Merkel at home.

The next tricky question for Merkel will be Germany's stance on Europe's banking union, a supervisory authority that will directly oversee some 130 banks representing about 80 percent of all bank assets in the eurozone. Germany and France have both resisted handing over economic sovereignty to Brussels

You can share this story on social media: