Geithner sent warning about Libor rate in 2008
Published time: 13 Jul, 2012 09:39
Edited time: 13 Jul, 2012 13:39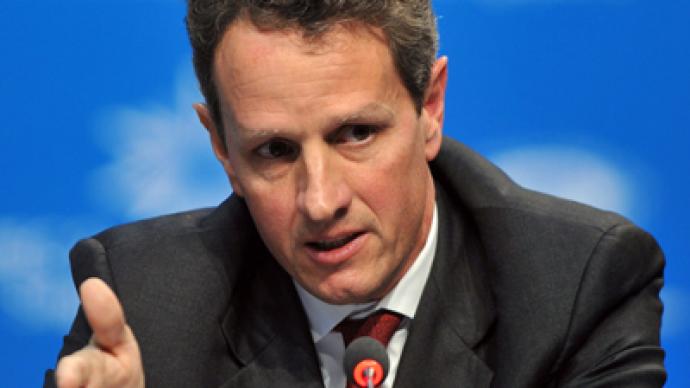 U.S. Treasury Secretary pressed the Bank of England in June 2008 to change the way the key Libor interest rate benchmark was set, a report shows. But many question whether the Fed did enough to stop the foul play when detected.
­Timothy Geithner, who was the head of the New York Federal Reserve Bank at the time, expressed concern about the Libor interbank lending rate in 2008, Reuters reports

According to documents obtained by the news agency Geithner sent a private email to the Bank of England (BoE) Governor recommending six ways to raise the credibility of the London interbank offered rate, "including procedures designed to prevent accidental or deliberate misreporting."

It is unclear what further steps Geithner took, and US regulators were soon embroiled in the 2008 financial crisis.

During the crisis, the borrowing costs of many banks soared as counterparts worried about their health.

Some banks may not have wanted their high borrowing costs to become public, fearing it may have fuelled concern about their viability.

 More than a dozen banks are currently under investigation by authorities in Europe, Japan and the United States on suspected rigging of the global borrowing cost benchmark.

Last month, Barclays was fined $451 million by British and US regulators for the attempted rigging of the Libor and its eurozone equivalent, Euribor.

The scandal may trigger criminal prosecutions, and has so far been mostly confined to London. But concern has grown about the wider impact on consumers and the involvement of U.S. regulators.

Questions have been raised about when the Fed detected foul play, whether it did enough to stop it, or was it put on the back burner because Wall Street was in the throes of the financial crisis.

US lawmakers plan to question Geithner and Federal Reserve Chairman Ben Bernanke later this month about the British rate-rigging scandal, which threatens to spill over from London to Washington