Diamond says Barclays wasn't alone, but admits wrong behavior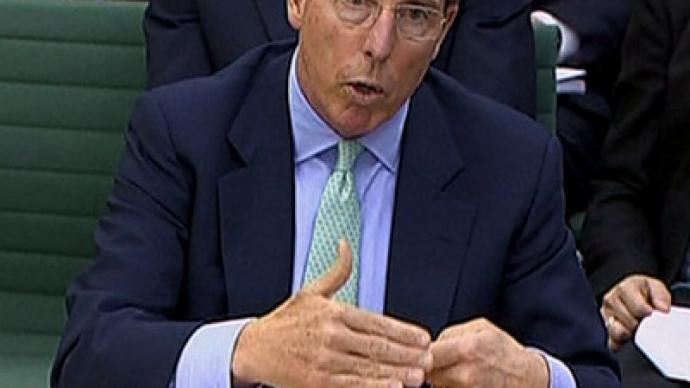 Former Barclays boss Bob Diamond said banks across the world were fixing interest rates in the run-up to the financial crisis, but regulators didn't stop them, during questioning by British MPs on the rate rigging scandal that cost him his job.
­"This isn't just Barclays," Diamond told lawmakers at the Parliament's Treasury Select Committee. "Throughout 2007 and 2008, no institution of the 16 banks reporting three-month dollar Libor was at the higher end more consistently than Barclays."
Diamond pointed the finger at 15 other banks, which participate in Libor setting, such as the government owned Royal Bank of Scotland, Lloyds and Halifax Bank of Scotland – suggesting that they were lying about their borrowing rates.
The Treasury Select Committee grilled Diamond on just how much he knew about his staff making false submissions to the London inter-bank borrowing rate.
At the same time he admitted there had 'clearly been mistakes' and 'reprehensible behaviour' at the bank. "There was pressure from group treasury to get Libor rates back on the path. The behaviour was wrong. But the actions were about getting in the pack [of other banks' Libor submissions]," he explained.
The former Barclays chief denied he had been given a 'nod and wink' from MPs to lower Barclays' Libor submissions and refused to give names of MPs, saying they were 'senior people in the Government'.

Mr Diamond insisted he had only made a reference to Whitehall because he believed they may have been looking to nationalize Barclays. "If Whitehall then was told Barclays was at the highest in Libor, they might say to themselves, 'my goodness, they can't fund; we need to nationalize them,' as they had nationalized other British banks," Diamond said.
"A number of the firms who were posting had emergency loans, were nationalized or were having trouble funding and yet we were posting the highest level," Diamond added.
He also described the bank as 'incredible' while adding that he had stepped down to prevent anymore damage to the bank.' "I love Barclays", Mr. Diamond told the Treasury Select Committee, adding "History will judge Barclays as an incredible institution because of its people. We need to get through this, and best way was for me to step down."
Barclays today revealed it has a recording of the crucial phone call between Bob Diamond and the Deputy Governor of the Bank of England Paul Tucker made at the height of the financial crisis which led to 'misunderstandings' and an artificial change in Libor submissions. But the bank said it would not be appropriate to release it at this stage.

Last week Barclay's paid a $450 million fine over its involvement in the rate fixing case. The bank has lost about $5 billion of its markets value since then, while its Chairman Marcus Agius, CEO Bob Diamond and COO Jerry del Missier have all stepped down.
The bank said it had cooperated with authorities and had conducted an internal investigation which had taken more than three years and cost more than $156 million. Despite that, the bank said it was "ironic that there has been such an intense focus on Barclays alone, caused by our being the first to settle".