Cameron seduces Brits with £100k to win fracking support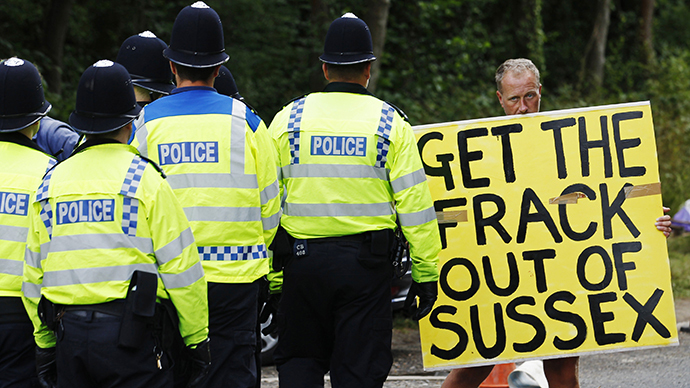 Trying to woo Britons with promises of lower energy bills and more jobs, the prime minister warned it would be a "big mistake" to miss out on the shale gas revolution, and disingenuously promised communities 100,000 pounds "immediately" in upfront profit.
Initially Cameron said the compensation to communities for allowing fracking – a key technology behind the 'shale revolution' - in their area would be 1 million pounds, the Guardian reports.
"What we are looking at is trying to have a very simple system where every time a well is dug, immediately 1 million pounds goes to the local community, and not just to the local council, but actually to local people so people can see a cash benefit in their local village, in their local town and even, potentially in their local pocket as well," as BBC quotes Cameron.
Downing Street stated later the figure was a slip of the tongue, as Cameron actually meant 100,000 pounds.
On top of that lump sum, Cameron promised a further 1 percent share of revenue in case the drilling in a particular area proved successful, which could result in millions.
While on a visit to Lancashire, the PM told factory workers that Britain and Europe are "missing out big time" by resisting hydraulic fracturing development. Allowing it into the country would bring significant economic benefits, such as more jobs and lower electricity bills, Cameron went on advocating.
The US shale gas boom, and the energy independence it has brought, is something Cameron hopes to emulate. He said the US has embraced fracking because they see the direct financial benefit in energy prices.
"In the whole of the European Union last year, 100 shale gas wells were dug. At the same time in the US there were 10,000," he told an audience in Darwen, northwest England.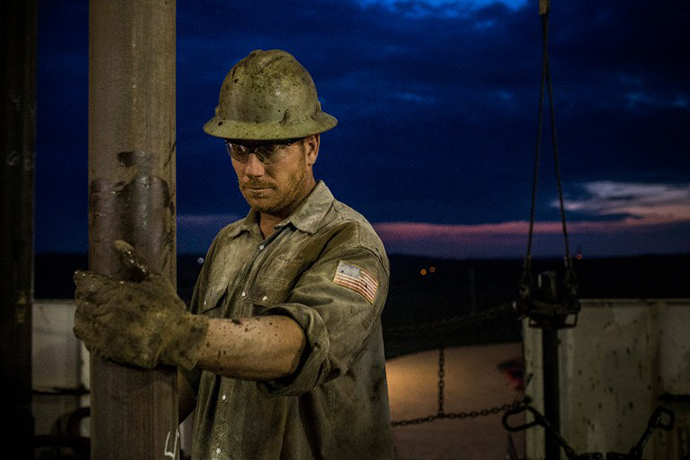 Joining 'shale revolution'
Cameron estimates the EU's shale gas potential to be about three-quarters of the US, which has an estimated 665 trillion gas reserves on American soil.
The shale industry boom in the US may add as much as $690 billion to GDP and create 1.7 million jobs by 2020, according to a study by McKinsey and Co. The oil boom has boosted domestic employment, company profits, and GDP in the US.
The USA is roughly 40 times the size of the UK, and much of the 'shale-revolution' isn't in the backyards of communities - fracking is in remote wells in North Dakota, Kansas, and Oklahoma.
Extraction by fracking involves pumping millions of gallons of water and chemicals into the ground, which creates excess hydro waste, which over time, which local residents worry will result in contamination of the water table.
In June, French President Francois Hollande ruled out shale gas exploration during his term in office, whereas Cameron has prioritized shale gas exploration, nuclear power, and offshore wind.
There will not be "a lot more" onshore wind turbines in the UK, David Cameron has said, as he signaled that hundreds of gas fracking wells could be drilled across the country.
England's North Sea oil shelf reserves are on the decline, with real futures only totally around 33 million pounds, according to independent economists at the Office for the Budget Responsibility, the Telegraph reported.
Exploration is still ongoing in the North Sea, but output production is heavily dependent on oil prices. If prices remain low, production is less profitable, but if prices spike, so will production, as it is more profitable.
If Scotland is granted independence, it also complicates the UK's energy resources, as North Sea oil mostly lies on Scotland's continental shelf, and if the resolution is passed, the UK would be left with only 9 percent of reserves, according to a 2012 assessment by Fitch.
A more likely outcome is a per-capita division of the oil, which would give the UK 92 percent of reserves.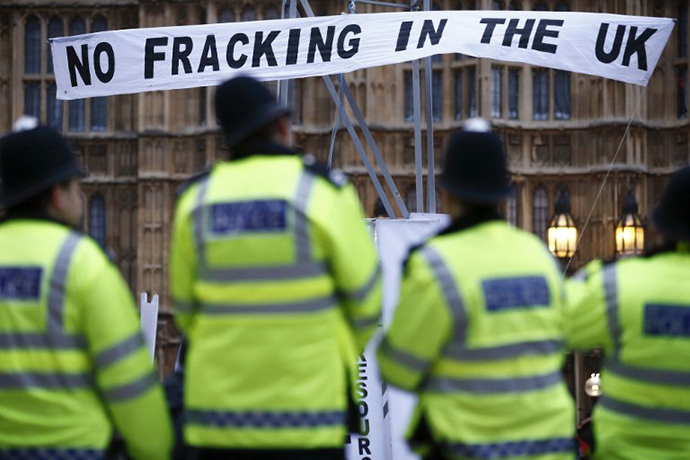 Wants to 'dispel' myths
Cameron's comments come at a tense time, amid fracking protests which are sprawled across the English countryside.
With anti-fracking tensions running high, Cameron said he wants to "dispel myths" that the drilling directly causes earthquakes or fire spouting from sink taps.
The biggest protests have been outside Sussex, as US firm Caudrilla began hydraulic fracturing on a private estate in Balcombe, West Sussex, only 40 miles (64km) from London.