Fracktivists: At least 15 arrests at anti-fracking rally outside London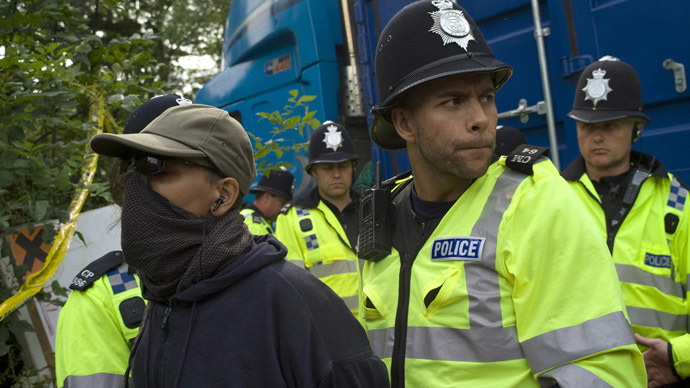 Police have made 15 arrests a protest against plans by the fracking company Cuadrilla to explore for oil and gas just 40 miles (64km) from London grew into clashes with law enforcers.
Cuadrilla has been granted a government permit for the exploration of oil and gas near the middle class village of Balcombe, in East Sussex, just this week.
The protests against the drilling began back on Thursday morning, as well-to-do villagers set up gazebos and bunting by the roadside. Mothers were there with their children, tea cakes were handed out to passersby, and there was a sing-along.
Several hours later, the villagers were joined by more organized and hardened anti-fracking activists. They blockaded gates to the proposed fracking site, formed a human chain and used tree trunks to stop trucks going in.
The unusual alliance of villagers and environmentalists succeeded in turning away at least one vehicle carrying drilling parts for the operation.
On Friday, however, police drew in more forces and the protesters were warned that they would be committing an offence if they stopped trucks from entering the site.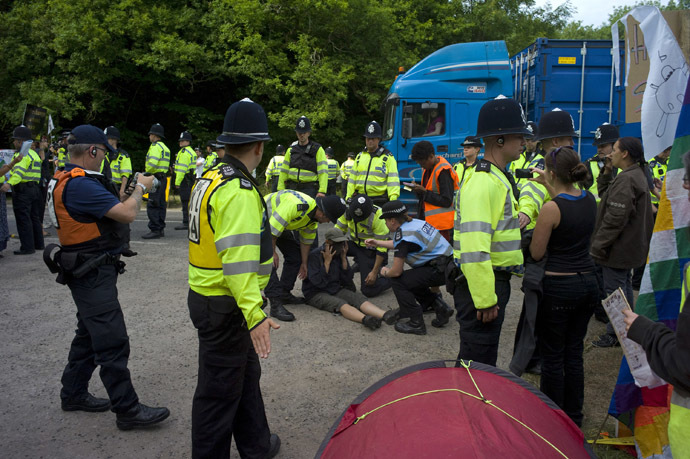 "A human chain was formed in front of the gates and the police have made the first arrests. People are really shocked it escalated so quickly," Andrew West from the campaign group Frack Off told the Guardian.
Up to 75 police officers marched down the road in formation and then began to arrest the environmentalists who blocked their path.
"They just started taking people out one by one. Not everyone went voluntarily and there were some struggles. The police seemed to be quite rough," Lilias Cheyne, an anti-fracking activist who witnessed the arrests, told the Guardian.
Helen Savage, one of the villagers, said they were not willing to be arrested, but planned to keep protesting in any legal way possible.
"We are completely committed to protesting through every legal channel we can. This goes beyond Balcombe. It is against government policy, which is to frack nationwide. It means a fracking rig every two miles. It will industrialize the landscape," she told the Telegraph.
About half an hour after the arrests were made, the first truck made its way onto the site, more than 24-hours after the blockade started on Thursday morning.
A source in Sussex police defended his officers' actions.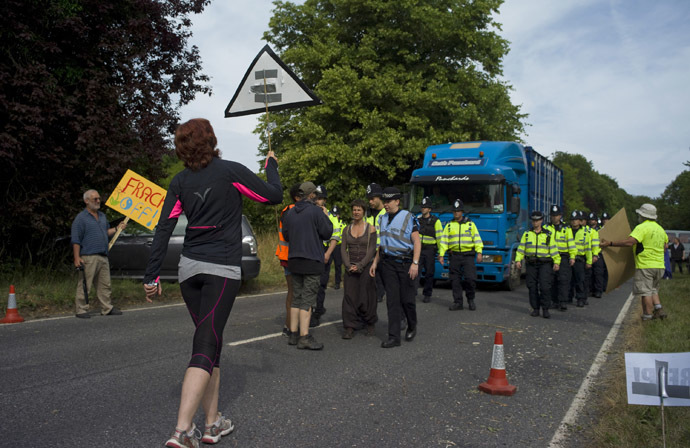 "Sussex police fully supports the right to demonstrate peacefully and within the law and also facilitate the contractors to carry out their business," Superintendent Steve Whitton told the Guardian.
But Ashley Williams, who witnessed the arrests, said the police used disproportionate force.
"This is a totally disproportionate response. The community is standing up for themselves against a company that is trying to poison them. As soon as regular people put their head above the parapet the state jumps in to defend the interests of a wealthy few," she said.
Cuadrilla insists that the rigs are only being brought in for exploratory drilling, and that fracking or hydraulic fracturing, could only happen at a later date if viable and if approved.
The local Conservative MP for the area, Francis Maude, said that Cuadrilla should be allowed to drill exploratory wells, but that more consultations were needed before the start of any commercial extraction.
Cuadrilla already operates fracking rigs in Lancashire, which have seen several protests by environmentalists and locals.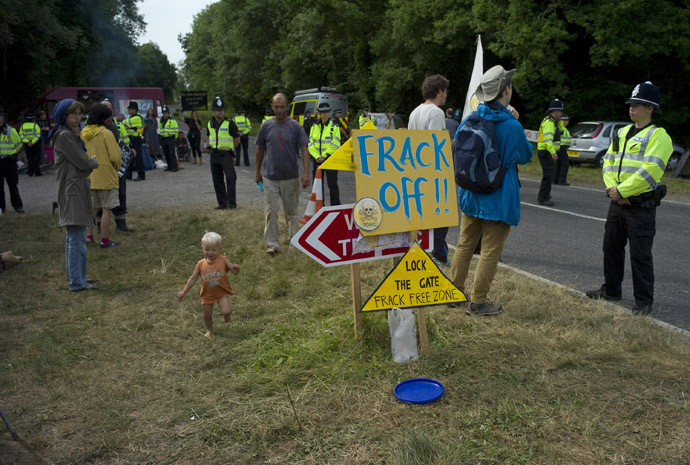 Opponents to the controversial process fear that water sources could be polluted, small country roads will be congested with trucks and that there could even be earthquakes.
The process of fracking involves blasting water mixed with toxic chemicals into rocks deep underground to release oil and gas trapped inside. In the US, where the process in widespread, it has been linked to water pollution, as well as ill health and methane leakage into neighboring water sources.
Tabitha Smith, an activist from Frack Off, said that protesters from other parts of the country planned to come to Balcombe.
"This is a battle which I think will be repeated across the country," she said.
You can share this story on social media: