Still struggling in America: Russia's largest steelmaker plans to close US plant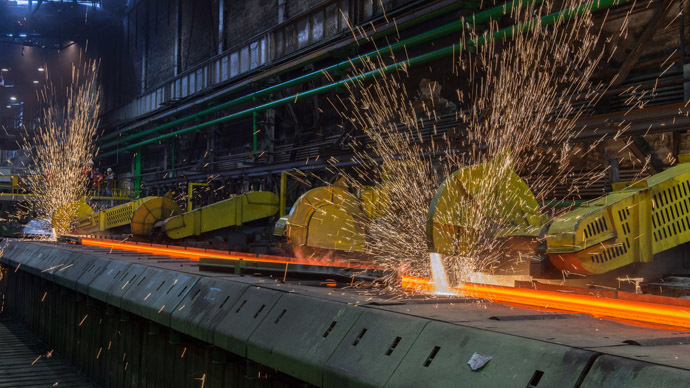 America's post-crisis reindustrialization and rail projects have provided greener pastures for Evraz, but now Russia's largest steel producer will suspend operations at a Delaware plant after a sharp fall in metals prices and weak market conditions.
The Claymont, Delaware, mill will wind-down operations over the next two months and nearly all of the plant's 375 employees will be laid off. The company is evaluating different scenarios under which it can reopen the 500,000 ton-capacity plant.

Evraz, America's number one rail producer, said that it doesn't expect a financial loss tied to the closure, and current Claymont customers will be served by one of the other seven operational production units in North America, five in Canada, and two in the US states of Oregon and Colorado, where demand for rail is high.

"Unfortunately, market conditions continue to be challenging and low market visibility makes it difficult to foresee when positive changes will occur," executive Vice President John Zanieski said in a statement on October 14.

"Fundamentally, [the closure] confirms the problem of the steel market and shows the damaging effects when Russian steelmakers expand abroad," Kirill Chuyko, head of equity research at BCS, a Moscow-based investment firm, said.
In the first half of 2013, Evraz net income decreased by 21 percent, or nearly $939 million due to the sharp price decline in coal, metals, and other raw materials, which have hit mining and steel companies, many of which are Russian. 

Evraz is headed by Chelsea football team owner and billionaire Roman Abramovich, whose personal fortune has declined with falling steel product prices, which, as a basket, have dropped by 3.4 percent since the beginning of September.

"Even though steelmakers receive the most profit from Russian sources, they continue costly foreign expansion, in part, for political reasons," said Chuyko.

Steel demand in Europe has waned, and declined 9 percent in 2013 and could drop 3 percent this year, while demand in North America grew by 8 percent in 2012 and is slated to increase 1.5 percent in 2013, according to Morgan Stanley, Bloomberg reported.

Russian steel and coal group Mechel, which has accumulated over $9.5 billion in debt, is planning to sell its last American asset- Bluestone coal company by November.

Analysts predict the trend will continue if steel prices don't improve, both abroad and in Russia.

Norilsk-Nickel, the world's largest nickel and palladium producer, is currently jettisoning its foreign and non-core assets and focusing on the Russian market.

Construction in Russia will account for 60 percent of steel use this year, compared to 27 percent in EU nations, according to Morgan Stanley.  By 2016, Russia will be Europe's largest car market.

China- the world's largest coal consumer also isn't showing promising signs for Russian investors, as growth remains stunted.

Evraz Claymont produces sheet steel. In the first half of 2013, they produced 171,500 tons. In 2012 production totaled 348,000 tons.

Evraz North America has 18 processing plants in Canada and the US which annually average an output of over 5 million tons of tubular steel.