Eurozone unemployment stalls at 12 % in Aug, hinting recovery round the corner
Published time: 1 Oct, 2013 12:45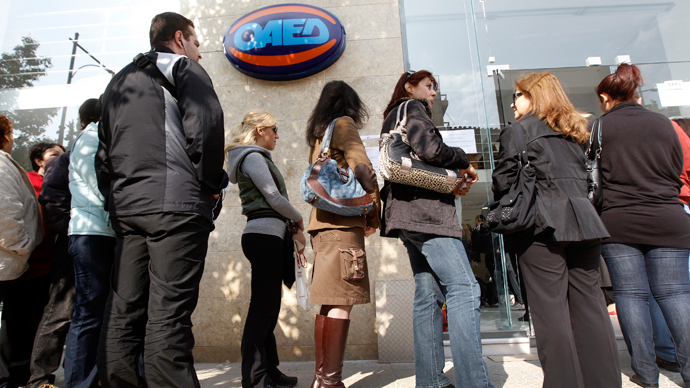 The number of jobless across the 17 nation eurozone has remained unchanged in August at 19.18 million, giving another hint that the currency bloc is beginning to stabilize its longest-ever recession.
There are currently the estimated 19.18 million people out of work across the eurozone, the area's key statistics service said on Tuesday.
The unemployment rate across the 28 members of the European Union stood at 10.9 percent, which means 26.59 million of people are out of a job.
The labor market data comes at a time when the area is steadily sending signals it's emerging from the toughest recession in its history. In the second quarter, it posted quarterly economic growth following 18 months of economic contraction.  GDP added 0.3 percent between April and June.
Recently Ireland and Spain said their economies were shaking off the steep slowdown, as they switched to growth in the third quarter. However, both said their recovery tracks were still boggy.
Labor market data isn't the only indicator. While overall the figures look bright, they mask a huge divergence among the member states. The bloc's powerhouse Germany has posted 5.2 percent unemployment, but  Greece and Spain have over a quarter of their potential workforce out of work.
The 'sick patients' – southern states, like Cyprus and Greece and Spain – went deeper into trouble, as in Cyprus the unemployment rate jumped the highest – to 16.9 percent year on year. In Greece the ratio went up to 27.9 percent between June 2012 and June 2013.
Youth unemployment remains the key pain for the Eurozone, standing at 23.7 percent. Across the member states, the highest was in Greece, Spain and the recently added Croatia. More than half of under 25s were out of job in August.