EU-Canada trade deal gateway to 'super' no-tariff zone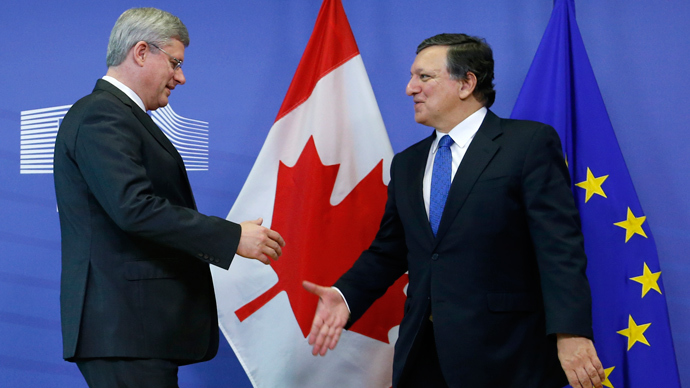 The European Union and Canada have signed a landmark free-trade agreement, that'll boost growth and create jobs. The deal also paves the way for Europe to create an even bigger no-tariff zone with the US, that'll represent half of the global economy.
After four years of negotiations, that were stalled for months over quotas for Canadian beef and EU cheese, the tentative deal was finally signed by Canadian Prime Minister Stephen Harper and European Commission President Jose Manuel Barroso. Now the deal is subject to approval by the European Parliament, EU member nations and from Canada on federal and provincial levels.
With 98 percent of EU tariffs eliminated, the agreement will make it easier for Canadian companies to invest in and sell to the 28-member EU and its 500 million consumers, and vice versa. The deal will also streamline regulation and cut red tape that used to hamper trade. On top of that, the deal will also help reduce the dependence of Canada's $1.8 trillion economy on imports from the US.
The government in Ottawa called the deal the most important trade agreement for the country since the 1987 free trade deal with the US, Associated Press reports.
"This trade agreement is an historic win for Canada," said Prime Minister Harper. "It represents thousands of new jobs for Canadians, and a half-billion new customers for Canadian businesses."
The European Union, a $17 trillion economy, is Canada's second-largest trading partner after the US. For the EU, Canada is only the 12th most important trading partner, but the agreement will provide new momentum to the nascent free trade talks between the EU and the US.
Officials on both sides of the Atlantic hope to agree on the outline of a broader EU-US agreement, set to become the world's largest free trade deal, as early as by the end of next year. The two economic giants combined represent just under half of the global economy.
A study by the EU estimates a US deal could add about 120 billion euros to the EU's gross domestic product and 95 billion euros to US GDP.
After the agreement between Brussels and Washington is achieved, the parties will be able to set standards for many industries, which would then become de facto global standards, handing firms in both economies a competitive advantage over rivals in Asia and elsewhere.
The talks with the US suffered a minor setback this month when Barack Obama had to cancel a long-planned negotiation round in Brussels because of the government shutdown. The next round is likely to take place next month.