US shutdown puts free trade talks with EU in impasse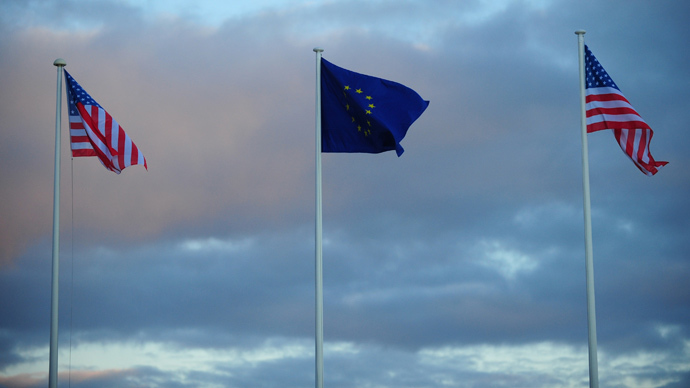 The United States has no choice but to delay negotiations over a major free trade deal with countries in the European Union because of the partial federal government shutdown, the Obama administration has said.
Michael Froman, a US trade representative working within an agency of the same name (USTR), phoned European Union Trade Commissioner Karel Del Gucht Friday to inform the Belgian politician that US officials would not be taking a scheduled trip to Brussels next week to discuss future plans. 
Washington and the EU were expected to meet for the second time on the Transatlantic Trade and Investment Partnership, according to Reuters. The agreement will become the world's largest free-trade deal if it is signed when the shutdown is lifted. 
Over 800,000 US government workers are temporarily out of work after negotiations over the federal budget ground to a halt in Washington earlier this week. More employees are likely to be placed on unpaid leave as the conflict drags on. Major government contractors, including Lockheed Martin, have begun announcing their own furloughs as the impact reverberates. 
"USTR will work with the [European] Commission to craft an alternative plan that can begin once the US government shutdown ends," the USTR said in a statement. 
Framers of the agreement have promised that the deal would stimulate employment in both the United States and Europe, where the jobless rate stood at 12 percent through August and September according to Eurostat, the statistical agency of the European Union. 
Karel De Gucht, who has been the European commissioner for trade since 2010, said in a statement that the cancellation of the meetings "in no way distracts us from our overall aim of achieving an ambitious trade and investment deal." 
US President Barack Obama announced the first round of negotiations with the EU Trade Commission on the first day of the G8 Summit in June. Meeting with trade representatives and leaders from some of the 17 countries represented in the EU, Obama proposed that a settlement between the two entities could eliminate all trade tariffs, strengthen rules-based investment, and determine improved market access on trade-in services, among other possibilities.  
"America and Europe have done extraordinary things before," Obama said in Northern Ireland, going on to say that he hopes they will create "an economic alliance as strong as our diplomatic and security alliance."
You can share this story on social media: