EU-US free trade talks start, overshadowed by espionage allegations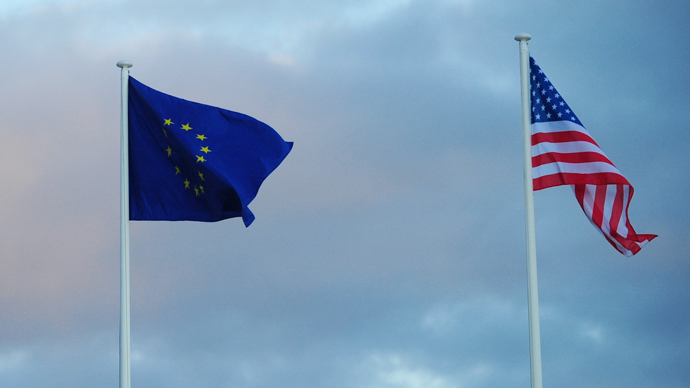 Talks on the biggest bilateral trade deal in history – the EU –US free trade agreement – start in Washington on Monday despite France's threat to postpone over accusations of US spying on EU diplomats.
In the pipeline for 2 years, the transatlantic free trade talks will kick off on Monday. In the aftermath of extending bilateral trade ties, the deal is due to cover about 50 percent of global economic output, 30 percent of global trade and 20 percent of global foreign direct investment.
"We go into these negotiations with the goal of achieving the broadest possible, most comprehensive agreement that we can," US Trade Representative Mike Froman told Reuters.
The talks start amid growing demand to postpone them, after former CIA employee Edward Snowden made his damaging intelligence leak. In one of his revelations Snowden said the US was spying on a number of foreign diplomatic missions in America that belonged to its rivals and allies.
In the wake of the uncertainty around the espionage allegations, France said it wanted to postpone the talks."It would seem wise to us to suspend them for a couple of weeks to avoid any controversy and have the time to obtain the information we've asked for,"  French government spokeswoman Najat Vallaud-Belkacem said last Wednesday.

However, given the tremendous scale of the Transatlantic Trade and Investment Partnership (TTIP) deal that eliminates tariffs and reduces regulation, the parties will try to give it a go. Once fully implemented the US –EU deal has the potential to boost economic growth by $100 billion a year, according to calculations by the Centre for Economic Policy Research in London.
The EU and the US are each other's top trade and investment partners, with their mutual trade estimated at more than $646 billion last year.
Hot buttons
The talks this week are largely expected to be mostly organizational, where negotiators will split into 15 different groups. The issues under discussion will vary from agricultural markets to electronic commerce.
One of the most sensitive issues for Europe is the US "Buy American" requirement, with the EU seeking to get exemptions from that on public works projects. The US in turn wants its counterpart to reduce barriers to genetically modified crops.
"There are sensitivities on both sides that will have to be addressed. But we think the prospect of a broad and comprehensive agreement gives us our best opportunity for achieving something that has eluded us before," Reuters quote Michael Froman, Deputy National Security Advisor on US-EU Trade Negotiations.
Such US internet and social media giants as Google and Facebook also want more favorable terms on privacy and data protection by the EU, as the existing rules put them at a disadvantage in the EU internet service market. But the recent revelations that US National Security Agency uses personal information from many internet companies for its use "made a difficult negotiating issue even harder," as Jeffrey Schott, a senior fellow at the Peterson Institute for International Economics, a Washington think tank, put it.
Ahead of the June G8 summit France voiced its concern over a possible threat of the FTA to its movies, television and developing online media. 
Another pain for the FTA talks is the world's largest trade dispute between the US aircraft producer Boeing and its European rival Airbus, that's still in process in the World Trade Organization dispute settlement system.

In 2004, EU authorities claimed Boeing received $19 billion in unfair subsidies from federal and state governments between 1989 and 2006. The same year the US government filed a similar claim against the EU over subsidies given to Airbus, owned by European Aeronautic Defense & Space Co (EADS).