St. Pete's economic forum sees billion-dollar deals signed
Published time: 21 Jun, 2012 17:04
Edited time: 21 Jun, 2012 21:04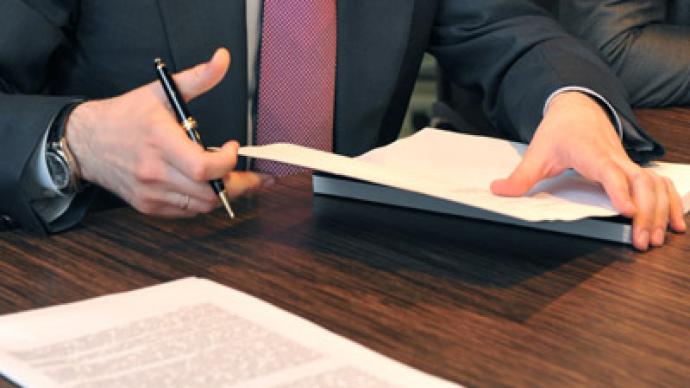 The first day of the 16th International Economic Forum in St. Petersburg has seen core deals signed in the aviation, energy and banking sectors with the biggest worth almost $2 billion.
Russia's second-biggest airline Transaero has signed an agreement to buy four Airbus A380 superjumbo planes worth a combined $1.7 billion at list prices. Transaero also agreed to buy six Sukhoi Superjet-100 planes, with deliveries in 2015-2017, worth $212.4 million, and signed an option to acquire 10 more.

Russian oil giant Rosneft, which signed an agreement for strategic partnership with U.S. company ExxonMobil, also reached an agreement for cooperation with U.S. company General Electric. The agreement largely concerns the delivery of power equipment, the companies said in their materials.

Rosneft also signed a series of agreements with Statoil on joint efforts in Russia and on Norway's shelf. The two companies agreed to work together in tenders for the development of fields in Norway. This agreement involves the securing of licensing in the Norwegian part of the Barents Sea and a technical evaluation of hard-to-recover resources in Russia.

The gist of the agreement is that a Rosneft subsidiary to be registered in Norway will get 33.3% of a Norwegian shelf development project. Earlier, Rosneft chief Igor Sechin had said that deposits of "difficult" oil could be located in Western Siberia and the Northern Caucasus.

Rosneft and Eni signed an agreement to create a joint enterprise for projects on the Russian shelf of the Barents and Black Seas. As part of this agreement, Eni is obligated to finance minimal licensing commitments on "carry" conditions. In addition, for each of the projects, Eni will compensate Rosneft for 33.33% of the license acquisition costs.

Rosneft has also borrowed as much as 100 billion rubles ($3 billion) for five years from banking group VTB as it develops Russian projects with Eni and Statoil.

Sberbank of Russia and HSBC Bank PLC signed a Framework Loan Agreement for $2 billion to provide Sberbank with short, medium and long term trade finance advances including advances to be covered by Export Credit Agencies. The first deal under the Framework Agreement has become a 1-year term, trade-related bilateral loan for $100 million granted to Sberbank by HSBC.

Deputy Chairman of the Board of Sberbank Andrey Donskikh said: "The conclusion of the Framework Agreement as well as the first Commercial Facility Agreement is a next important step of the progressive development of cooperation between Sberbank and HSBC Bank in the sphere of trade finance.

"This agreement will allow Sberbank to boost its trade finance business and to offer competitive products to our corporate clients, including the financing to be covered by Export Credit Agencies," he said.

The forum, which has brought together participants from roughly 50 countries, is becoming the largest in Eastern Europe and one of the largest in the world. It is expected to see about 50 agreements signed worth around 125 billion rubles (roughtly $3.7 billion), according to the Ministry of Economic Development. The record in terms of the contracts signed was set during the last pre-crisis forum, in 2008.