Crash and burn: Asiana Airlines stock plummets 6.2% after Boeing 777 accident
Published time: 8 Jul, 2013 12:31
Edited time: 8 Jul, 2013 13:56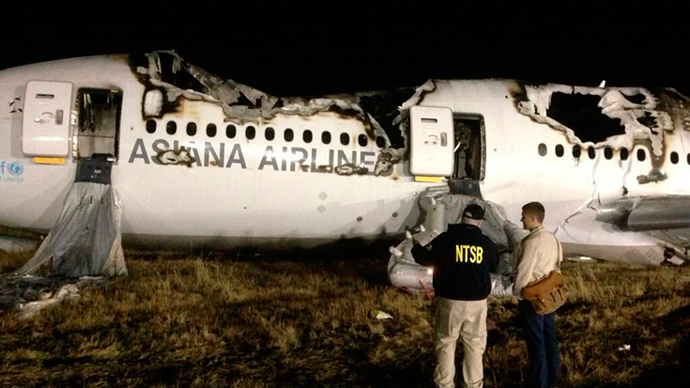 Asiana Airlines shares tumbled 6.2 percent, their worst fall since December 2011, and by market close settled at 5.8 pecent, following the Boeing 777 crash at San Francisco's international airport.
The price of the Korean airline's shares fell to 4,825.00 during Monday's trading session, dropping 295 points, its worst performance in 19 months.

Two 16 year old Chinese girls traveling to a summer camp in the United States died and over 180 were injured after the plane hit a sea wall at the end of the runway and clipped its tail, sending the aircraft into a violent spin and into flames.

"This tarnishes Asiana's reliability as an airline, and if the flight crew turns out to be responsible for this tragic accident it will deal a serious blow to the airline," Woori Investment & Securities analyst Martin Song told Reuters.

The US National Transportation Safety Board said on Sunday the Boeing 777 was "significantly below" its target speed, and Asiana has defended the experience of both pilots.

The pilot who landed the plane, Mr. Lee, was attempting his first 777 landing at SFO, but his ninth overall in the aircraft model. He had 43 hours of flight time experience with the 777 aircraft.

Following the crash, Asiana CEO Young-Doo Yoon told reporters in Seoul both pilots were 'veterans' citing one had 10,000 flight hours and the other 9,000.

Chris De Lavigne, an aerospace analyst with consulting firm Frost & Sullivan, told the BBC that it is not standard practice for a plane crash to trigger share drops.

"We are likely to see some people cancel their bookings and think whether it is safe to fly Asiana, until there is sufficient reassurance from the airline that it has found the root cause and sorted it out," Lavigne told the BBC.

Rival Korea Air traded 0.7 percent higher.

"It's peak season for airlines now, and for this to happen could affect its operations and increase costs," a Seoul-based analyst, Cho Byoung Hee, told Bloomberg.

Asiana Airlines Inc. was founded in 1988 and is head-quartered in Seoul, South Korea.

The Korea Composite Stock Price Index (KOSPI) finished down at 1,816.85 points, extending its loss period which is partly due to disappointing Samsung Electronics earnings. Asian stocks overall are mostly low on the US Federal Reserve's plans to taper down their $85 billion bond buying program. 
Chinese customers could be discouraged from using the airline in the future, which may lighten overall foreign passenger demand.

Investors are closely monitoring the situation, worried it could affect earnings.

Boeing shares up

Saturday's crash involved a Boeing 777, but the plane maker's stock has emerged unscathed, as a mechanical error has been dismissed and the focus has been on 'the human factor' of the pilots.

Boeing, which is the second best performing stock on the Dow Jones this year, is up 1.26 percent  at 11:00 am GMT on Asian and European trading floors. Asiana was down 5.76 percent at the same time.

Boeing's stock is up 38 percent since the beginning of 2013, second in gains only to Hewlett Packard. 
The crash landing came after several other serious Boeing incidents, including the US Federal Aviation Administration's grounding of the Boeing 787 'Dreamliner' jets after a slew of technical failures. 
A Boeing 737 in Moscow caught fire after an emergency landing in May 2013, there were no casualties.
A Boeing 747 crashed and burned in Afghanistan after takeoff, killing 7 American citizens in April 2013.

Also in April a Boeing 737 crashed into a sea off the coast of Bali, with zero fatalities.