CIS nations reach free trade zone agreement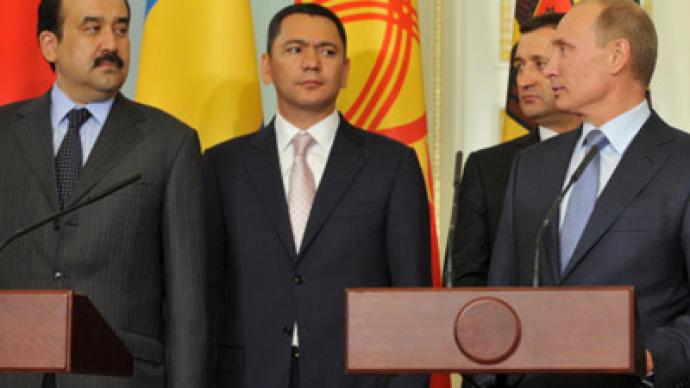 Russia and most of its CIS partners have signed an agreement committing to creating a free trade zone during Tuesday's meeting of the Commonwealth in St. Petersburg.
­Russia, Ukraine, Belarus, Kazakhstan, Armenia, Kyrgyzstan, Moldova, and Tajikistan signed for membership which is designed to reduce all trade fees on a number of goods between the countries – and some expect the rules to come into force next year. Azerbaijan, Uzbekistan and Turkmenistan were the only members of the 11-strong union to stay out of the new trade zone, but still have the opportunity to join it before the year's end, if they decide to do so.
The agreement, which has been crafted over the last 10 years, will be another step for successful integration of neighboring states according to Russian Prime Minister, Vladimir Putin, who added it was essential to boost trade volumes

"The document which marks out essential conditions and rules for free trade has been a long time awaited and neatly prepared. It has been discussed and examined, at some point corrected with the heads of Commonwealth countries and finally agreed and approved."
Putin added that new conditions are attractive for all parties.
"The goods will arrive at lower prices and the document takes into consideration the improvement of conditions for innovative enterprises unfolding new opportunities of exchange of technologies and materials"
Putin recalled that the trade turnover between the CIS countries increased by 48% and exceeded $134 billion in the first half of 2011.
"If by now we had such significant volumes, without actually having the agreement on free trade zone, then you can imagine the rate of growth as soon as the law comes into force"
The push by the Russian government to strengthen economic ties with the countries of the former Soviet Union mirrors plans to form a Eurasian union which will be discussed by the Heads of Government-members of the Customs Union in St. Petersburg on October 19.
Alexander Shepotylo, professor at the School of Economics in Kiev, said the new trade regime aligns with standards and practices of the WTO including detailed order of interaction between CIS countries.

"The trade agreement has been established and installed long time ago but the rules and mechanisms of interaction were missing resulting in a number of trade disputes related to violations of the regime. Now the mechanisms, even if they are imperfect, have been worked out."