Better Chinese trade figures still cause doubts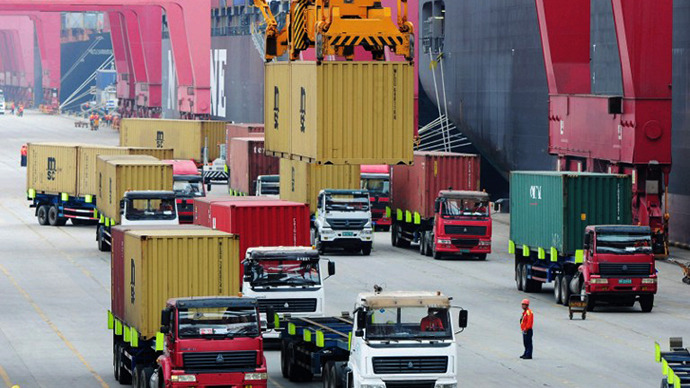 Chinese exports rose 14.7 percent year-on-year and imports increased 16.8 percent, both outperforming analyst expectations, but they may be distorted due to the quickly inflating yuan.
Both imports and exports increased in China in April, according to data released by the government, but the figures still mark an overall weakness in demand.
China's April trade surplus was $18.16 billion, far exceeding the expected $15.5 billion estimation, the People's Republic Customs Administration announced on Wednesday morning.
"This is definitely much better than expected," Citigroup economist Ding Shuang told the Wall Street Journal. "But this probably reflects some over-invoicing (by exporters). It was inconsistent with cargo volumes at the nation's ports."
The over-invoicing stems from the rising Chinese yuan, up more than 1 percent against the dollar this year. The over-invoicing is also related to the special export relationship China holds with Hong Kong, which operates on its own separate currency, so onshore/offshore currency rates could also slightly distort the data.
The positive data may just be a reflection of the inflated yuan, and not actually a clear reading of the trade deficit.
Economists cast doubt on the data because it doesn't align with other regional economics. South Korea and Taiwan posted weaker than expected export figures for April, exposing the fragility of global demand, yet China's data soared.
"I have no strong conviction whether the data reflects reality," Zhiwei Zhang, chief China economist at Nomura in Hong Kong told Reuters.
Positive stimulus plans from the US and Europe have ameliorated the trade deficit figures in China. A Reuters estimate of money flows indicates that $181 billion in speculative cash entered the Chinese market in the first quarter.
New export orders shrank in April. First quarter data was heavily distorted due to over reporting, some analysts think.

China's economy has faced brutal data in 2013. In March it cut its GDP outlook from 7.9 percent down to 7.7 percent, spurred by overall weak global export demand.
April's manufacturing data was also disappointing. HSBC's April report on the service sector showed the weakest expansion since August 2011. The Chinese service sector saw further easing in April, as the China Services Business Activity Index compiled by HSBC slipped to 51.1 points from a March reading of 54.3.A reading above 50 indicates activity expansion, while a reading below the dividing line points to contraction.
The bump in the trade deficit certainly isn't the 'cure all' to China's sluggish economy.
Inflation data is due on Thursday, and next Monday's data will include industrial production, fixed asset income, and retail sales figures.