Solar panel war between US and China heats up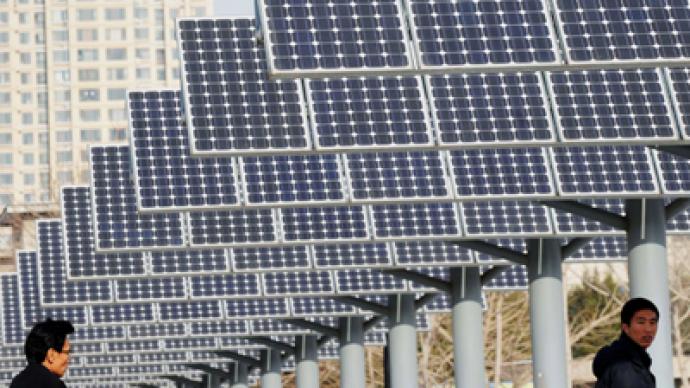 China says it will begin investigating imported US and South Korean solar-grade polysilicon amid growing tensions between major solar manufacturers.
The Chinese Ministry of Commerce said it would open anti-dumping and anti-subsidy probes on US imported polysilicon, as well as an anti-dumping probe on South Korean imports of the raw materials used to make solar products, Reuters reports. Earlier this year, the United States put two new import duties totaling about 35% on solar equipment from China in a bid to restrict Chinese companies' presence on the market. Beijing claims this may hurt efforts to promote clean energy. Chinaese solar manufacturers such as Suntech Power Holdings, Yingli Green Energy and Canadian Solar have criticized the tariffs set this year as a threat to their young industry, saying they could slow growth by raising costs.Chinese officials have threatened to impose trade duties on US shipments of polysilicon if the US moves to penalize Chinese solar companies.Chinese Commerce Ministry spokesman Shen Danyang said the US ruling was unfair and warned it could harm clean energy cooperation."This is not consistent with China's development status, does not conform to the facts of China as a market economy and highlights the tendency of trade protectionism in the United States," Shen said.The Chinese ministry issued the decisions in two statements on its website, citing preliminary evidence from several companies: GCL Poly-Energy Holdings, LDK Solar, and Daqo New Energy. If punitive tariffs are adopted, it would likely impact importers such as US polysilicon maker Hemlock, the world's largest, and South Korea's largest producer.The Coalition for Affordable Solar Energy, a US group that represents solar installers, urged both the United States and China to avoid duties, saying tariffs from either end cost jobs and make solar energy less competitive against fossil fuels."Lowering, not artificially raising, the cost of solar should be a global goal," the group's president, Jigar Shah said in an emailed state cited by Reuters.
You can share this story on social media: