Green-blind? US wages war on Chinese solar panel makers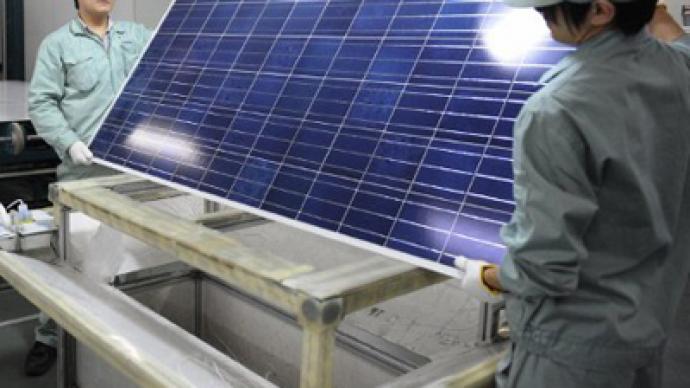 The US is set to increase tariffs on solar panels made in China in a bid to restrict Chinese companies' presence on the market. Beijing claims this may hurt efforts to promote clean energy.
If the US ruling is implemented, Chinese solar-panel imports will face tariffs of up to 31 per cent.
Beijing has retaliated rejecting a US antidumping ruling, with Chinese makers warning higher tariffs could impact promotion of clean energy.
Chinese Commerce Ministry spokesman Shen Danyang says the US ruling is unfair and warned it could harm clean energy cooperation.
"This is not consistent with China's development status, does not conform to the facts of China as a market economy and highlights the tendency of trade protectionism in the United States," Shen said.

Three major Chinese manufacturers – Yingli Green Energy Holdings, Suntech Power Holdings and Trina Solar – reject accusations they were selling goods at improperly low prices.
The thorny situation is adding pressure to US-Chinese trade tensions. The countries are two of the world's biggest markets for solar, wind and other renewable energy technology. Both governments are promoting their own suppliers in the hope of generating higher-paid technology jobs.
American companies are facing fierce competition from China, as demand weakens in Europe and other key markets.

Several US solar panel makers, led by US SolarWorld, had asked the government to penalize China for dumping low-price products on US markets. Solar-panel maker Solyndra went bankrupt after the California-based company received a $528 million US government loan, citing Chinese competition as one reason behind its failure.
However a majority of US solar panel installers oppose tariffs on Chinese panels, arguing that less expensive imports have helped make the product more affordable for US customers. They have also warned China might retaliate against US suppliers.

"This is the first step to a trade war between the US and China," said Jigar Shah, leader of a coalition of solar companies that oppose US tariffs.

The countries are seeking cooperation in developing renewable energy, but exchange accusations of violating free-trade pledges by supporting their own manufacturers.