​China experiences worst economic growth in 14 years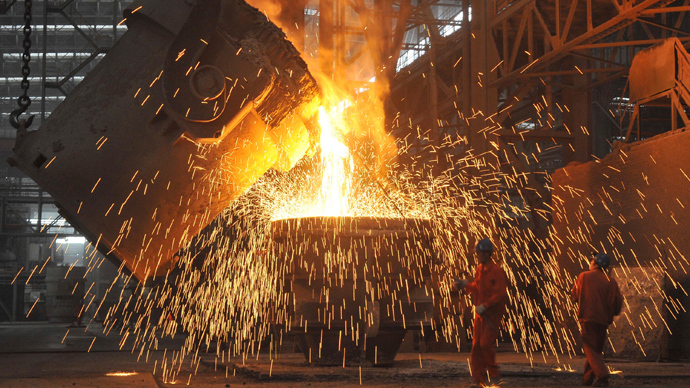 The gross domestic product (GDP) of China in 2013 grew by 7.7 percent, the worst since 1999, according to the National Bureau of Statistics.
Last year the world's second largest economy expanded at the same pace as in 2012, when the country's GDP reached $9.31 trillion (56.8845 trillion yuan).
While growth exceeded the Chinese authorities' estimate of 7.5 percent, it stalled at a 14-year low.
The first quarter showed a 7.7 percent increase; with growth in the second quarter standing at 7.5 percent. The economy expanded at an annual rate of 7.7 percent during the October - December period, slowing from 7.8 percent in the previous three months.
"The figures showed China's economy had touched the bottom in the third quarter of 2013 and then stabilised in the end of last year," the BBC quotes Li Huiyong, an economist with Shenyin & Wanguo Securities in Shanghai.
The majority of experts see a further slowdown of the Chinese economy in 2014, down to 7.4-7.5 percent, as the country takes steps to move away from an investment-led growth model to one driven by domestic consumption.
"We expect the trend will continue in 2014 as the policymakers are determined to push forward the reforms to maintain stable economic growth," said Mr. Huiyong, "We maintain our 2014 GDP growth forecast of 7.5% as we still need to be on guard for the risks from debt problems in the economy."
China faces debt risk as the major lenders, especially the big four state-owned banks, in order to maintain the high country's growth rate, have lent a record sum in the years after the financial crisis. Some of the investments seems dubious and may turn into bad debt.
The most recent data shows China increased its US treasury debt holdings by $12.2 billion in November, setting a new record of $1.32 trillion.
Apart from any damage to the banking sector, the problem may impact on overall growth.
Together with growing worries over the lending by non-banking companies, known as shadow banking, it may become a real menace to the whole Chinese economy.
You can share this story on social media: