China pledges to buy more EU bonds as crisis deepens
Published time: 30 Aug, 2012 13:17
Edited time: 30 Aug, 2012 17:17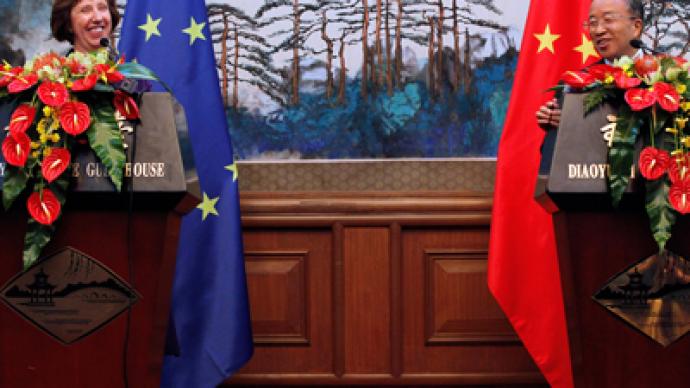 China is considering buying more EU government bonds amid a worsening European debt crisis in order to support its biggest trading partner, according to Chinese Premier Wen Jiabao.
"China is willing, on condition of fully evaluating the risks, to continue to invest in the eurozone sovereign debt market, and strengthen communication and discussion with the European Union, the European Central Bank and the IMF," Wen said after meeting with German Chancellor Angela Merkel in Beijing.
Wen Jabao also stressed that European debt problems remain a major concern for China. The demand for Chinese exports in Europe slumped due to the crisis, dragging China's economy into the worst contraction in three years.
"The main worries are two-fold: first is whether Greece will leave the euro zone. The second is whether Italy and Spain will take comprehensive rescue measures," Wen said. "Resolving these two problems rests with whether Greece, Spain, Italy, and other countries have the determination to reform".
Wen said that the meeting with Angela Merkel has somewhat eased his worries about the crisis. "But I must honestly say, the implementation of these measures won't be completely smooth," he added. Angela Merkel along with former French President Nicolais Sarcozy used to be active advocates of the unpopular thrifty budget policy in dealing with the crisis.

However, the Chinese PM said he believed the eurozone would survive the crisis, if it manages to "balance" fiscal austerity and economic stimulus measures.
In February China Central Bank Governor Zhou Xiaochuan said Beijing would continue buying European government debt, but various Chinese agencies opposed the initiative by saying such investments were to risky.
Meanwhile, experts have been divided over the effects of China's purchases of the Europan bonds. Some say, the Chinese bailout could lead to collapse for both Europe and eventually China as its biggest trading partner. "Asking China to put money into Europe essentially means Europe is asking China to lend to Europe in order to buy Chinese exports, and this should absolutely be the last thing Europe wants, especially for the peripheral countries," Paul Donovan of UBS wrote in his blog. Others are more optimistic, saying it would reduce some risks.
"Helping Europe by strengthening the IMF and increasing its lending would avoid some of these political costs, especially since China would not be directly involved in European politics and problems," Arvind Subramanian from the Peterson Institute for International Economics and the Center for Global Development wrote in his piece for New York Times.