UK PM rings alarm bells, says US shutdown a 'vital reminder' for debt control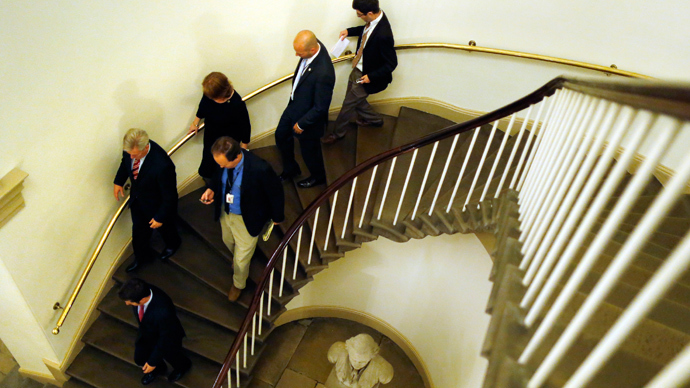 The US debt crisis has pushed lawmakers into a stalemate, and resulted in the first government shutdown in 17 years. First global leader to react British PM David Cameron said other global economies suffer a similar infection.
Follow RT's LIVE UPDATES on the US budget crisis

The US Congress announced a partial shutdown on Monday, after Congress failed to agree on the spending bill for the next fiscal year, that starts on October 1. The key battle is over the cost of President Obama's healthcare program dubbed Obamacare.

The shutdown "is a reminder to all of us that we need to have properly planned public expenditure systems, properly planned tax, properly planned arrangements for getting our deficit down," David Cameron said in an interview with Sky News.
Cameron's comments came before he is due to deliver a key speech on the merits of his party's drive to reduce the UK budget deficit. The political chaos in the US gives David Cameron an example of how his government policies have better controlled debt.
"Even if it's a brief failure, it would forever be a signal to the market that you can't trust the United States government to make its payment when it's due," said Millan Mulraine, the director of United States research and strategy at TD Securities. "That would shake the foundations of the global financial system."
"Some people want to get away from the subject of deficit reduction and sorting our economy out and turning it around, but I think we will have lots of reminders over the coming months, like what's happening in America, that it's absolutely vital," Cameron said to Sky News in an on-air interiview.

The US has amassed more than $11 trillion in debt in the last 9 years, bringing the grand total to $16.7 trillion, or $51,297 for each US citizen.
In 2012 the ratio of US debt to GDP stood at 100.8 percent. To compare, the UK public national debt stood at  around 90 percent of its GDP last year. In the neighboring EU, the total public debt of the 17-member euro zone was about 91 percent of GDP in 2012, and reached an all-time high of $11.4 trillion in July 2013.

Every year since 1982, under five different presidencies, the US has raised its national debt. President Obama and the Democrats hope to raise the debt ceiling by October 17 so that the US isn't forced to default on its debt, which would be a historic first.

Congress's failure to pass a bi-partisan budget will put as many as 800,000 US federal employees on hold, close down most national parks and museums, and limit other federal services.

"The shutdown will have a very real impact on real people right away," Obama said on Friday.

The ripple effect from the shutdown isn't just limited to individuals out of work or left without government services, but for the American economy as a whole. The White House tweeted the government shutdown could cost the American economy $10 billion per week, a large sum given the fragile state of the economy, which is on the verge of a potential double-dip recession.

Citigroup analysts estimated last Friday a one-week shutdown could cost the US 0.1 percent of its national economy.

The US has partially shut down the government 17 times since 1977, ranging from hours to a couple of days.
The government shut down for 21 days from December 1996 to January 1997 under the Clinton administration and cost an estimated $2 billion in nominal dollars, according to the US Office Management and Budget.
Some are more optimistic about the shutdown, hoping it will help speed along the decision to raise the debt ceiling. 
Alec Phillips, a Goldman Sachs economist, said on Friday that a shutdown could "ease passage of a debt-limit increase" as Republicans will lose their influence in Congress as they are largely blamed for pushing the shutdown
There has been a lot of blame-slinging between Republicans and Democrats as to who is at fault for the shutdown, but most Americans blame Republicans, who forced the shutdown in their fight to defund Obamacare.