Markets Buzz: Russian stocks to continue gains amid calm global backdrop
Published time: 8 May, 2013 07:29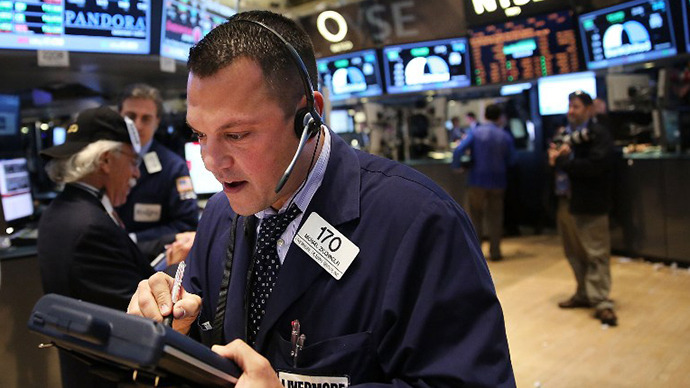 Russian floors saw slight growth at the start of Wednesday trading – investors expect the upward trend to continue later in the day, but estimate that foreign markets will mostly trade flat.
Russian floors ended Tuesday in positive territory: The MICEX added 1.19 percent to close at 1430.18 and the RTS advanced 1.73 percent to 1451.84, with power company shares the biggest gainers.

European markets also closed in the black, setting a series of new records. The Stoxx Europe 600 set a record for the year, gaining 0.3 percent to close at 301.74 on earnings reports from banks HSBC Holdings PLC and Société Générale SA.
Germany's DAX 30 also saw an all-time-high closing, advancing 0.9 percent to end the day at 8,186.16. In France, the CAC 40 was up 0.6 percent to close at 3,930.98. UK stocks returned to action after a bank holiday on Monday, with the FTSE 100 index of leading companies gaining 0.4 percent to close at 6,548.95.
Important market news out of Europe on Wednesday will include official German data on industrial production. France is on a national holiday, and markets will be closed on May 8. On Thursday, markets in France and Germany will remain closed for national holidays. 
The ECB will publish its monthly bulletin on May 9, and Spain will hold an auction of 10-year government bonds. The US will release its weekly initial jobless claims update on May 9.
Wall Street set new records during May 7 trading: The Dow Jones Industrial Average closed above 15,000 for the first time, while the S&P 500 also ended at another record high. The Dow added 0.58 percent to close at 15,056.20, the S&P 500 gained 0.52 percent to end at 1,625.96 and the Nasdaq grew by 0.11 percent to 3,396.63.
No important news is expected from the US on Wednesday. Investors will be closely watching a Friday speech by Federal Reserve Chair Ben Bernanke, as well as official data on the federal budget balance. Also on Friday, finance ministers and central bank heads from the Group of Seven nations will begin a two-day summit.
Asian markets are trading higher on Wednesday after another record performance on Wall Street and improvement in Chinese trade: Japan's Nikkei 225 climbed 0.9 percent to 14,304.15; Australia's S&P/ASX 200 rose 1 percent to 5,195.20; Hong Kong's Hang Seng advanced 0.6 percent to 23,186.94 on HSBC's earnings report. Benchmarks in Singapore, Taiwan, Mainland China, Indonesia, Thailand and the Philippines also saw gains.
Oil is trading higher on Wednesday, with Brent up slightly by 0.01 percent and WTI adding 0.16 percent.