Market Buzz: No news means cooler heads, little movement
Published time: 7 May, 2013 07:36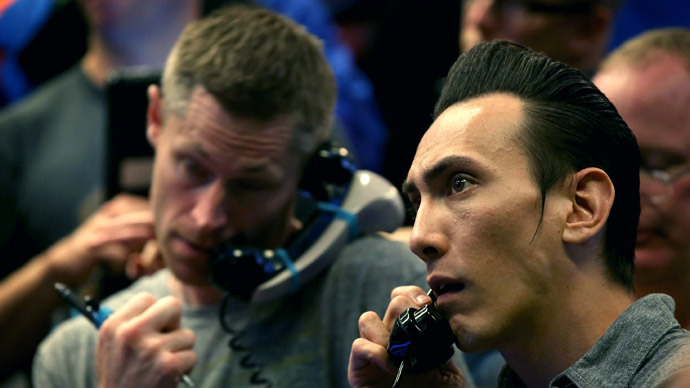 Russian floors opened Tuesday in the red due to mixed sentiment abroad and declining oil prices.
Russian stocks closed higher on Monday, with the MICEX up 0.38 percent to 1,413.43 and the RTS adding 0.16 percent to close at 1,432.15.

European markets saw minor losses on Monday: The LSE was closed for a holiday, while other major indices saw slight corrections following strong gains last week. 
The German DAX 30 fell 0.13 percent to 8,112.08 points in Monday trading, France's CAC 40 slipped 0.15 percent to 3,907.04 and the Spanish Ibex 35 closed 0.48 percent lower at 8,503.8 points, with banking shares among the biggest losers.
Germany will release official data on factory orders on Tuesday, May 7, and France will publish data on industrial production later in the day.
US stocks traded mixed on Monday: The S&P 500 set another record-high close at 1,617.50, up 0.19 percent, the Dow Jones slipped 0.03 percent to 14,968.89, and the Nasdaq grew 0.42 percent to 3,392.97. Bank of America demonstrated strong gains on news of a major mortgage securities settlement.
Asian markets saw no big drivers on Tuesday due to cooling sentiments on the better-than-expected US jobs report. Tokyo stocks have come roaring back following a four-day holiday amid strong performance in Europe and the US. 
Japan's Nikkei jumped 2.6 percent to 14,083.26 for the first time since June 2008, boosted by the US jobs report. Hong Kong's Heng Seng and the Shanghai Composite in mainland China are trading flat. South Korea's Kospi has fallen 0.37 percent, and Australia's S&P/ASX 200 has declined 0.3 percent.
Oil is trading lower, with Brent down 0.4 percent and WTI down 0.6 percent.