Fellow-students of Facebook founder launch Bitcoin index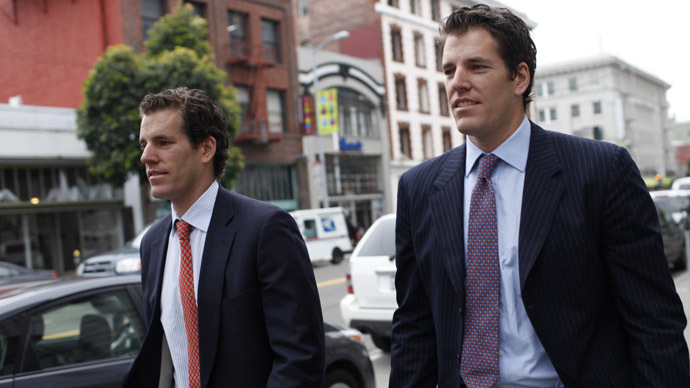 The Winklevoss twins, best known for their legal clash with Facebook founder Mark Zuckerberg , have launched Winkdex – an index for bitcoin that'll provide regular updates on the currency price across world exchanges.
Tyler and Cameron Winklevoss, the venture capitalist twins, have given details of the new index in a filing to the Securities and Exchange Commission.
"Math-Based Asset Index, LLC ("Index Provider") [the twins' firm — ed.] developed, calculates and publishes Winkdex on a continuous basis using a patent-pending mathematical formula developed for such a purpose. The formula provides a volume-weighted, exponential moving average market price by blending trading data from the largest Bitcoin Exchanges by volume on a list of Sponsor-approved Bitcoin Exchanges," the filing said.
Winkdex will be similar to CoinDesk's Bitcoin price index. At the moment there are seven exchange members in the new index, with the Winkdex value standing at about $575 on Friday.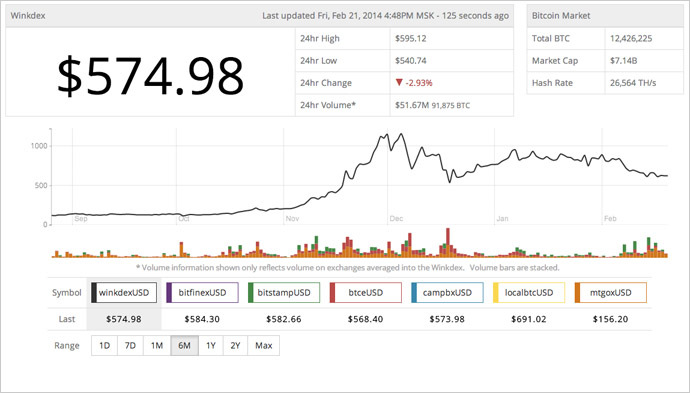 To become a part of the index, an exchange would need to fill certain criteria. First, its trading should be denominated in US dollars. Second, its trading data should be available, with the trading volume being big enough, and finally it should have a "lack of recent trading halts."
The new Winklevoss filing means the twins are moving closer to having their Bitcoin Trust gain regulatory approval, despite all the recent criticism and downturns.
The brothers intend to start the fund later this year, making it the first Bitcoin E.T.F.
Mt Gox, a Japan-based bitcoin exchange, that is included into the index, is now the poorest performer.
Bitcoin has lost another 87 percent of its dollar value there, dipping to below $100, as Mt. Gox started to face new "security problems," that "pushed back progress" in fixing technical issues that emerged two weeks ago, as the exchange said in its Thursday statement.
The Bitcoin virtual currency stood at about $135 per unit on Friday afternoon at the exchange, after hitting a low of $91.5 the day before.
This marked a dramatic fall from the $690 price tag on February 7, when Mt. Gox temporarily paused bitcoin withdrawals "to obtain a clear technical view of the current processes." Then the exchange said it wanted to understand why the flow of withdrawal requests increased sharply.
In November 2013 bitcoin first passed $1,000 per unit.
You can share this story on social media: