Avtovaz losses bring bankruptcy talk to the surface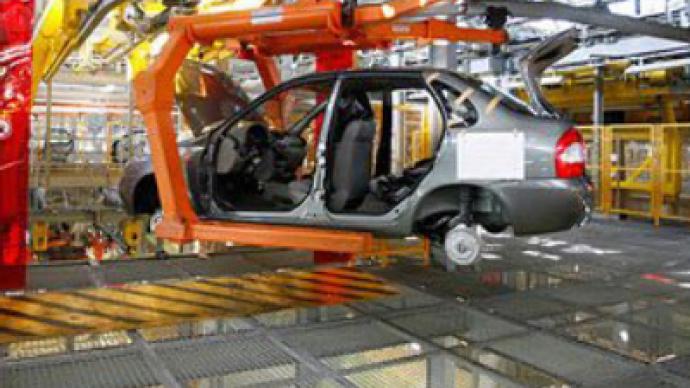 Mounting losses at Avtovaz, have stakeholders muttering about stemming the losses and bankruptcy, as the company races against time to rev up its range, slash employees, and service crippling debts.
Russia's beleaguered carmaking monolith, Avtovaz, is drifting closer and closer to the fate of stricken American counterparts, General Motors and Chrysler, this year as speculation about a possible bankruptcy becomes increasingly credible.
Recent weeks have seen large banks baulk at extending it further funding, or buying directly into the Avtovaz, and even a planned $1.7 billion bond float isn't getting an enthusiastic reception. That's seeing words like 'bankruptcy' and 'legal options' being bandied about. Vice-President for Finance, Oleg Lobanov, wasn't pulling punches on Tuesday when he spoke to a press in the carmakers home city of Togliatti.
``If there are no other options left, we'll have no other choice,''
And in case anyone wasn't sure what he was on about he underlined it.
"In such an event, we are talking not about a halt in production, but of certain legal procedures that would give a certain time lag to solve the issue of debt restructuring."
It says something about the extent of the management malaise that has engulfed what was once Russia's pre eminent carmaker. Its market share has taken a hammering in the last decade as global carmakers such as GM, Volkswagen and Toyota, amongst others, have set up shop in Russia, and its dated technology has increasingly been spurned by Russia's car buying public.
Even this year, which has seen price re-emerge as a buying factor, car buyers continued to desert Avtovaz, with the company slashing planned output from more than 800,000 vehicles to less than 350,000 this year. It reported a 19.6 billion Rouble ($668 million) loss in the in the first half year. Avtovaz President Igor Komarov, has openly mulled a possible 30-35 billion Rouble loss for the full year, to go on top of the 7 billion Rouble loss posted for 2008.
That's adding to its already massive debts – expected to reach more than 75 billion Roubles ($2.6 billion) at the end of this year. The government has already offered one interest free loan, and added to calls for private investors to come up with cash of their own.
Vice-President for Finance, Oleg Lobanov, said the company is looking at restructuring options ranging from protection against creditors, direct talks with them, and a convertible bonds issue. The first becomes more likely if the second two looking like failing. The latter envisages the issue of 50 billion Roubles in convertible bonds being taken up by Vnesheconombank and being later swapped for shares. This he says would allow Avtovaz to deal with its crippling interest payments on existing debts.
"allows us to refinance current debts within the shortest time possible, end interest payment, and receive the cash required to solve liquidity problems that are easily projected over the next two years,"
Over that time it is expected that the company will shed large numbers of staff and reduce the number of models it produces, while upgrading its range. The platforms being made available by shareholder, Renault, offer some hope that the company can be turned around over the medium to longer term.

The president of Avtovaz, Igor Komarov, said that while the company has many employees near retirement, the jobs of staff of working age will not be cut.
"Car production is expected to reach 450 thousand cars in 2011. If we are to bring it to a break-even level, we will have to change the structure of output, and bring the number of employees to the needed level. Some of our workers will not have anything to do for some time. Most of these 21 000 people are pensioners or people of preretirement age. Avtovaz will not cut employees that are of working age."
But if the funding cant be found to service its debts, shareholders may find it increasingly difficult to justify keeping the employees on the line.