How bout' them apples? iPhone maker sets record $17 billion bond deal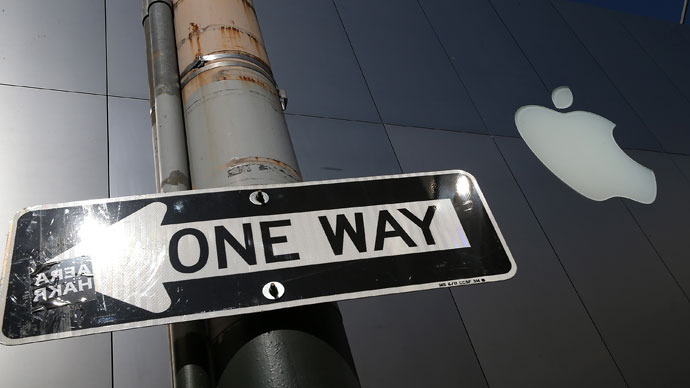 Apple sold $17 billion in bonds in a record deal set to prove the tech-giant is willing to reward longtime investors, as well as attract new ones. The deal comes amid a seven-month slump which has seen the company's stock price drop by over a third.
Apple Inc. managed to borrow the money in six pieces at historically low costs on the back of declining Treasury interest rates, which determine the prices of corporate bonds.

The order book – a barometer of investor demand for the debt – for Apple's first round offering reached $52 billion, exceeding the original estimate by $10 billion.

The California-based firm sold the bonds in an effort to raise money which will be handed back to shareholders in the form of dividend payments and stock buybacks. Apple had previously said it would borrow the funds as part of a broader plan to return some $100 billion to investors by the end of 2015.

The company's first bond offer in two decades comes during a 37 per cent drop in Apple's stock pricing over the last seven months, spurred by stiff competition in the mobile computing market which has seen the iPhone-maker's share of the profit margin pie shrink.

Although the company is sitting on more than $145 billion in cash, much of its money remains overseas. Apple is unwilling to repatriate the money however, as it would be forced to hand over 35 per cent of it taxes under current US law. The estimated foreign tax rate Apple currently pays on its foreign earnings stands at $0.84 per cent, Jennifer Blouin, associate professor of accounting at the Wharton School, told Wired.

Apple borrowed $5.5 billion for 10 years at 2.415 per cent. Other yields included 0.511 per cent for three-year bonds and 30-year bonds at 3.883 per cent, The Wall Street Journal reported. The Journal said the rates received on the loans were comparable to what a company with a AAA credit rating could expect.

Last week, ratings agencies Standard & Poor's and Moody's placed Apple Inc. one mark below their highest rating for issuers. The agencies cited the company's insufficiently shareholder-friendly attitude and, ironically, its policy of keeping a large portion of its cash abroad, a move which could prompt it to borrow more.

The financial sense of not keeping all of its apples in the US cart was obvious to Blouin, however.   

"Apple can either pay the US government 33 or 34 cents on every dollar it repatriates," she told the periodical. "Or it can borrow in the US at 3 per cent—maybe not even that much."

Apple further receives a tax benefit through a corporate bond sale. With 65 per cent on the interest payments on corporate debt being tax deductible, Apple is in a position of paying out pennies on every dollar it raises in bonds, or fork over a third of the foreign money it brings back to the US.  

"It's not hard to do the math there," Blouin says. "I could be off by magnitudes, and it would still make sense."

The largest previous record for a corporate bond deal was a $16.5 billion offering in February 2009 from the Swiss drug company Roche Holdings Inc., according to data provider Dealogic.