Israel-Hamas conflict dents demand for global air travel – data
The number of international flight bookings has been declining since the October 7 attack, according to a report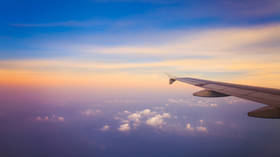 The escalating Israel-Hamas conflict has negatively impacted not only flights to and from the Middle East but also caused a global slowdown in the aviation industry, travel analysis firm ForwardKeys reported on Friday.
According to the report, international flight bookings around the world have dropped since the onset of the conflict on October 7, when the Palestinian armed group Hamas launched a surprise attack on Israel, killing over 1,400 people. Israel's retaliatory bombardment of Gaza has led to over 10,000 deaths, according to Palestinian authorities.
"This war is a catastrophic, heartbreaking, human tragedy that we are all seeing daily on our TV screens," Olivier Ponti, the vice president of insights at ForwardKeys, said in a statement. "That is bound to put people off traveling to the region, but it has also dented consumer confidence in traveling elsewhere too."
Data shows that international flight bookings from the Americas dropped 10% in the three weeks after the Hamas attack, when compared to the number of tickets issued three weeks before that.
The report indicated that people in the Middle East have also been traveling less, with international flight tickets issued in the region having fallen 9% in the same period. Meanwhile, global flight bookings for travel to the region nosedived 26% in the three weeks following the Hamas attack.
"Within the region affected by the Israel-Hamas conflict, Israel has suffered the worst, with many airlines having cancelled flights," the report stated, adding that in terms of flight cancellations in the region Israel was followed by Saudi Arabia, Jordan, Lebanon, and Egypt.
International flight bookings dropped 5% across regions on average, impacting the global recovery in international travel from the Covid-19 pandemic.
According to Ponti, bookings one day before the October 7 attack showed that global air travel in the last quarter of the year would recover to 95% of its 2019 levels, but as of late October the outlook has fallen back to 88%.
For more stories on economy & finance visit RT's business section
You can share this story on social media: