European country reveals nuclear energy plan
All reactors in Switzerland will remain operational so long as they're deemed safe, Bloomberg reports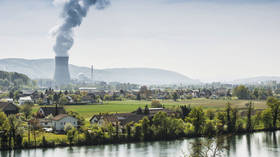 Switzerland intends to keep its nuclear power plants operational for longer than previously planned amid fears of electricity shortages, reflecting a trend among other European countries extending the use of atomic energy, Bloomberg reported this week, citing major Swiss utility companies.
The country has four nuclear reactors, which generate up to 40% of its electricity, according to the World Nuclear Association. In 2017, Switzerland decided to phase out nuclear power but has not set a deadline for closing the plants, leaving it up to operators to run them, so long as they are deemed safe.
The energy crisis and concerns about securing stable electricity supply prompted Swiss companies to extend the lifespan of the reactors. Major utilities Axpo Holding and Alpiq Holding have already increased the planned use of their nuclear power plants to 60 years from a previous target of 50 years, which would see them running until about 2040, spokespeople for the companies told Bloomberg.
Alpiq is even considering an extension of as many as 80 years and is assessing how the move would affect safety, investments, and profitability, the outlet said.
The decision mirrors a broader trend across the EU with France, Belgium and Finland also working on prolonging the lifespan of their reactors as they anticipate surging electricity demand amid insufficiency of renewable energy sources.
Germany, however, shut down its last nuclear power plants in April in favor of renewable energy, ending more than six decades of commercial nuclear energy use. The decision has led to electricity shortfalls and forced the EU's largest economy to ramp up imports of electricity produced by French nuclear facilities and coal plants in the Czech Republic.
For more stories on economy & finance visit RT's business section
You can share this story on social media: