Fewer Italians will work – data
Over a third of Italians will be over 65 in 2050, ISTAT predicts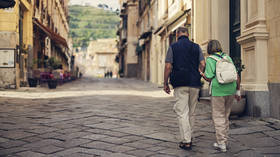 More than a third of the population of Italy, the Eurozone's third-largest country, will be over 65 by 2050, up from about a quarter last year, according to data released by the national statistics bureau ISTAT earlier this week.
The report predicted that the ratio of people of working age (15-64) to those who are too young or too old to work (0-14 or 65 and above) "will decrease from about three to two in 2022 to about one to one in 2050."
Population decline and ageing are posing major challenges for Italy, leading to an inevitable drop in economic productivity and higher welfare costs, in a country which already has the largest pension bills in the 38-nation Organisation for Economic Cooperation and Development (OECD).
The statistics agency also projected that the Italian population will fall to 54.4 million by 2050 from 59 million last year, when births sank to a historic low of under 400,000.
Immigration could provide a solution to the demographic slump affecting Italy and the rest of the EU, according to Prime Minister Giorgia Meloni, whose government has pledged to provide more financial aid to families who want to have children.
The school-age population in Italy will shrink by one million in the coming decade because of plunging birth rates and the continuing brain drain, according to Education Minister Giuseppe Valditara, who has called the scenario "alarming".
For more stories on economy & finance visit RT's business section
You can share this story on social media: