Austrians urged to save rubles
Chancellor Karl Nehammer mistakenly used a picture featuring the Russian currency in his party's PR campaign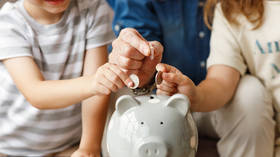 Austrian Chancellor Karl Nehammer became the target of online jokes this week following an X (formerly Twitter) post promoting his party's 'Believe in Austria' PR campaign that featured an image of Russian rubles instead of euros.
According to local media reports, Nehammer published a post on his social media account on Tuesday that enumerated Austria's many achievements as a leading European economy.
One of the banners was dedicated to Austria's fight against inflation and proudly declared that the country holds "second place in terms of anti-inflation measures in the EU." However, eagle-eyed users quickly spotted that the image behind the caption, which featured a family of three throwing coins into a piggy bank, showed Russian rubles instead of euros.
A quick search showed that the image used for the banner was taken from an online photo stock. Apart from the photographer's clearly Russian name, Evgeny Atamanenko, the photo's location is listed as being Russia.
The embarrassing mistake reportedly caused many a joke in the comments to the post, with one of Nehammer's followers suggesting that the ruble looked more appropriate than the single European currency in a post about fighting inflation.
However, the post, along with the juicy comments, was quickly removed from the chancellor's X feed. There are also no traces of the image on other social networks of Nehammer's Austrian People's Party. Reports claim that one of his social media accounts has since published an image of a piggy bank, but with a woman putting euros in it.
For more stories on economy & finance visit RT's business section
You can share this story on social media: